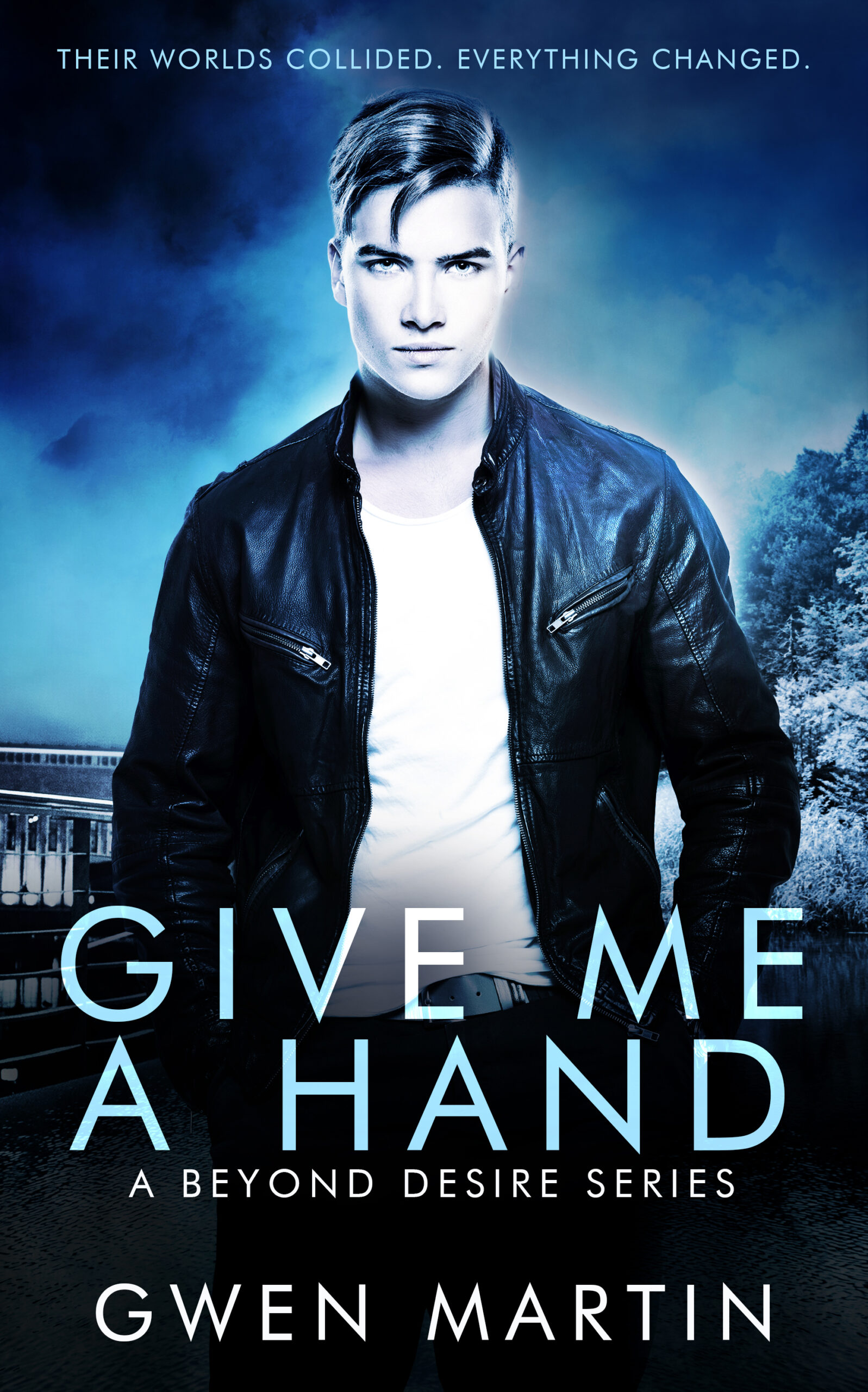 Title: Give Me a Hand
Author: Gwen Martin
Series: Beyond Desire #1
Publisher: self-published
Release date: March 10, 2020
Genre: m/m contemporary / new adult romance
Tropes: friends to lovers, roommates
Length: 174 pages
Blurb:
Their worlds collided. Everything changed.
 Cam and Jude had been college roommates for two years, fitting into each other's lives with ease.
That is, until Cam walked in on Jude getting off alone in their shared dorm bathroom.
Everything shifted between the two of them, awakening feelings Cam hadn't felt for anyone in a long time. Feelings Cam believed had shriveled up after surviving a near fatal car accident to then suffer a disastrous breakup with his first love.
Since then, Cam kept his heart sealed tight in a fortress, keeping himself busy with a lot of mindless hookups and a steadfast refusal to ever commit.
Cam's life had been predictable. He knew what he wanted.
Until that impromptu mutual orgasm with Jude.
Cam didn't want a boyfriend, and he certainly didn't need a relationship.
But he knew one thing he did crave and that was more of Jude Ellison.
Will Cam be able to work through his painful past if Jude offered him a chance at more?
Excerpt:
Cam didn't focus on the tightness in his chest, how badly he wanted to brush Jude's damp hair back from his forehead. He didn't think about how the pants of Jude's breath twisted in his gut. He didn't ask Jude how he was feeling at that moment.
Instead he reached over to slick his fingers through the thick pool of come, earning a surprised gasp from Jude as he spread it over his own dick. Cam started jerking himself off again, his hand so shaky with nerves he fumbled.
"You're one dirty motherfucker," Jude murmured in awe. He shifted closer to Cam, their shoulders bumping. Cam shuddered when he felt Jude's lips against his ear. "Your turn."
Cam nodded, rucking up his t-shirt, holding it in his mouth. He knew it won't take long, a few tugs at the most, especially with how Jude was staring at him like he was the most magnificent thing he'd ever laid eyes on.
No one had ever looked at Cam like that, and it pulled at something in Cam's chest.
"Jesus, you're so hot," Jude murmured, his voice hoarse and sex-edged.  
About the author
Gwen Martin lives in Florida where the sun is always shining, the humidity is always high, and Disney is just a hop skip away. When she's not trying to write one of her million story ideas, she's usually hanging out with her husband and four cats. 
Gwen first started writing at a young age, coming up with stories in class instead of paying attention to the math lesson. Since then she has been exploring her love of writing in various fan communities where she has learned how to cultivate character development and romantic interactions. 
She has a strong love affair with cold brew coffee, black cats, and nerding out in various fandoms. When she's not writing, she's reading everything she can get her hands on, listening to a lot of lo-fi and making playlists, chilling with her four gatos and obsessing about Pusheen. Because it's always about Pusheen.
Instagram | Facebook | Facebook Group: Gwen's Gang | Bookbub | Goodreads | Author Website
Sign up to Gwen's Newsletter for an exclusive epilogue of Cam & Jude