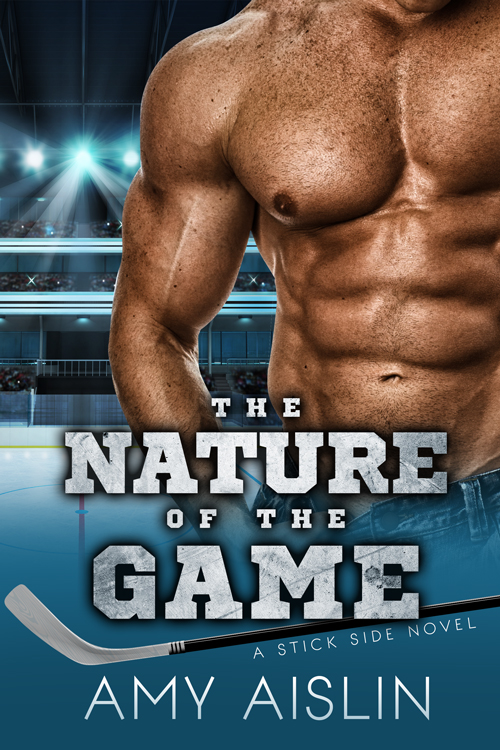 The Nature of the Game
Book two of the Stick Side series
Buy it: Amazon | B&N | Kobo | iBooks | Paperback

Get it on Audio: Amazon | Audible US | Audible CA | Audible UK | Audible DE | Audible FR | Apple US |  Apple CA
Six years ago, an ultimatum forced Dan Greyson to make a choice that cost him everything he loved most. One of those things? His boyfriend, hockey player Ashton Yager. Now that they've crossed paths again, Dan isn't about to let the opportunity slip away. Ash's reappearance in his life is just the catalyst Dan needs to escape the rut he's fallen into…and win back Ash's trust and love.
Ashton Yager, once burned and now a little bit shy, didn't mean to publicly come out as bisexual. But now that he has, he's got to deal with the consequences, including the fact that it might've cost him his NHL contract. With his job on the line, he needs to keep his head down, work hard, and play the best hockey of his life. Rekindling things with Dan? That's not exactly keeping a low profile. It's also never going to happen, not after Dan walked away once without an explanation.
When a hurricane forces Ash to seek shelter out-of-state, he and Dan find themselves in the same B&B, where old feelings resurface. But with everything Ash has on the line, does he dare play with fire again?
Cover art by Natasha Snow Designs.
Dan and Ash. I have no words. I read it in one sitting 'cause I just couldn't put it down.
I just really love this book. It feels classic and timeless. The love between Ash and Dan is palpable and perfectly inevitable. I can't wait to see what happens next with this series, because Aislin is rocking it!
I'm a sucker for a well-written second-chance romance and that's exactly what we get with Amy Aislin's second novel in her Stick Side series.