Today, let's look back on February and look forward to March.
Favourite February reads
I finished 15 books this month—4 audiobooks, 10 ebooks, and 1 physical book. I only DNF'd 1 book this month, so I count that as a win. (Last month, it was 3

.) My favourites of the month are below. Just click on the covers to be taken to the book's Amazon page.
Boyfriend with Benefits by Allison Temple was great! It was funny and short and exactly the audiobook I needed. It's got a cute plot, funny banter, and great narration. I highly recommend the audio; it's hysterical!
Porper Scoundrels by Allie Therin was


How dare Sebastian and Wesley be so freakin' cute together? Sebastian is a total cinnamon roll; Wesley is a closet cinnamon roll. They both stole my heart and ran away with it, damn them.
Off Balance by Jay Hogan was suuuuuper lovely. I am a huge fan of romances where the main characters actually communicate. Who's with me? This book has that in spades, plus great writing, and a really interesting premise.
The Musician and the Monster by Jenya Keefe came onto my radar thanks to one of my readers who recommended it when I fell into a book slump. I'm so glad it did because it was really well done. The most unique Beauty & the Beast retelling I've ever read, this was a story of two people from different worlds learning to communicate through music.
Books I'm looking forward to reading in March
I can't remember who recommended Emma Scott's When You Come Back to Me. It seemed like something that would be right up my alley, so I bought the paperback and…it's almost 400 pages!! I've also heard that it's angsty as fuck, so send prayers.
Icebreaker by A.L. Graziadei came in my January Rainbow Crate box. I'd been looking forward to it since I first heart about it in late 2021, so I'm hoping to find time to read it soon. New adult hockey romance with mental illness rep? Gimme! Also, that cover is something else, don't you think?!?
This past month, I read Eli Easton's novella that's free as part of the YBBB giveaway on Prolific Works. It's called Fireman's Carry and it's the prequel to Hot Seat by Eli Easton and Tara Lain, which just released this months. Fireman's Carry was a sweet story about how the two main characters from Hot Seat met, so I look forward to reading how their story concludes.
I've never read anything by Chani Lynn Feener before, but several of my favourite bookstagrammers have. Across From You releases on February 27, and it's a young adult sci-fi fantasy with parallel universes and a take charge female lead. There's another gorgeous cover for you.
TBR Wrap-Up: February
On last month's High Five Friday post, the books below were on my TBR list. Here's what I thought about them.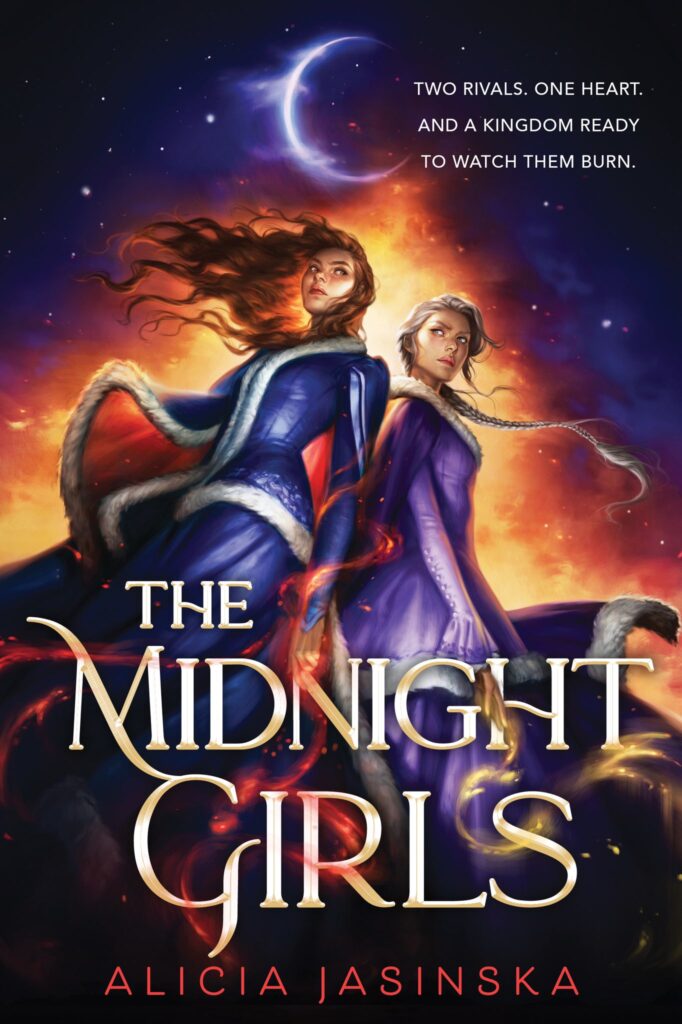 I read 70 pages, set it aside to go to bed…and wasn't motivated to pick it back up again. I've read three other books since. The writing is a bit flat and I wasn't connecting with the characters. Gorgeous cover, though.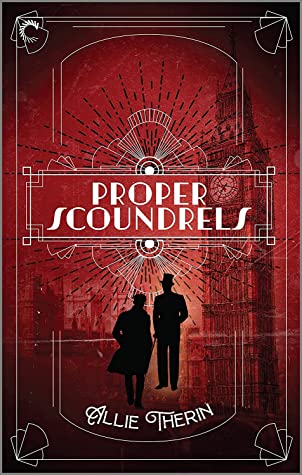 Give me more Wesley and Sebastian! How dare this be a standalone *cries into her tea*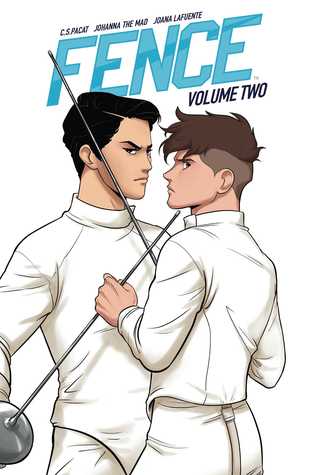 It was…fine, I guess? The story moves at a snail's pace. I love the art, though, and I do have volumes 3 & 4 on my shelf. But Vol 2 didn't really motivate me to read them.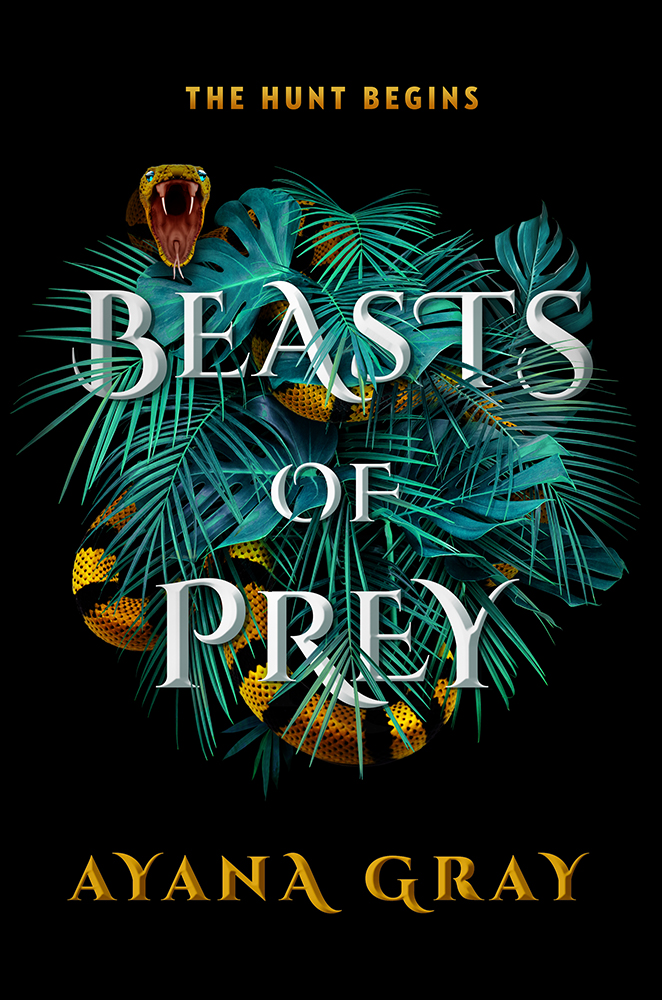 I got distracted by other books and haven't read this one yet. I wasn't much in the mood for young adult fantasy this month, so I'm re-adding it to my March TBR!
The 12 Challenge
If you're on Instagram, you might've seen the 12 Challenge going around at the beginning of the year. The goal is to read 12 books recommended by 12 friends, and I'm going to be participating!
These are the 12 books that have been recommended to me by 12 of my Instagram friends.
I've read three so far:
Always Eli by Charlie Novak: cute and sweet. My fist novel by this author, but it certainly won't be my last.
Off Balance by Jay Hogan: incredibly lovely and one of my favourite reads of the month.
Let There Be Light by A.M. Johnson: Camden and Royal were absolutely perfect together and the writing was just beautiful.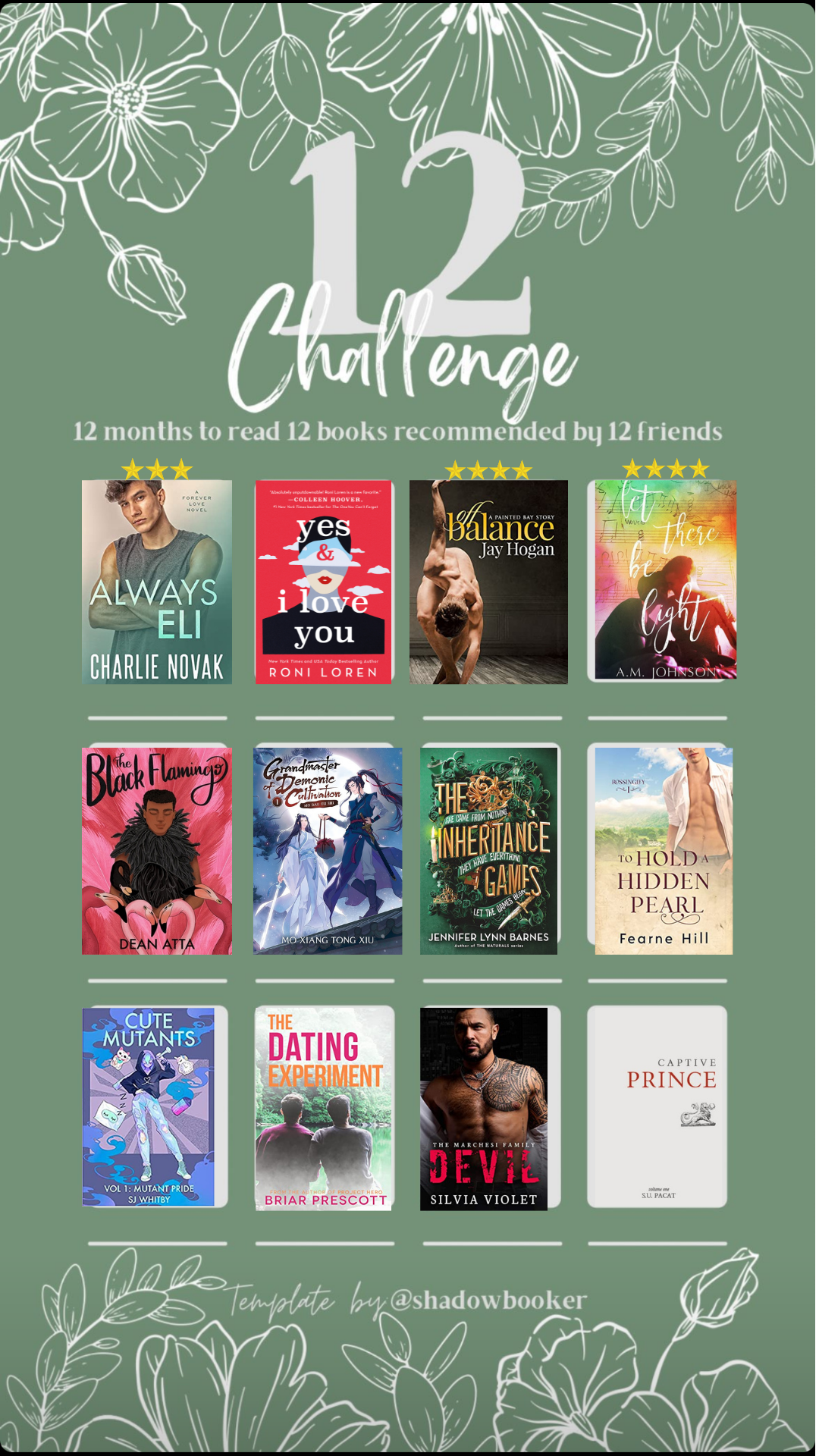 On the writing front
You guys! The first draft of Lighthouse Bay 3…Clark and Dev's story…is…finally…complete!
It took me four months to write this book. FOUR MONTHS! For a novel of this length, it usually takes me 2.5. Clark and Dev were stubborn as fuck, and then I realized the story was going in the complete wrong direction…
Anyway. It's done. It still doesn't have a title, but it's done. I'm doing revisions now to add character backgrounds and flesh out a few details, and then, this weekend, it's going to my beta readers and my developmental editor. Still aiming to have this one out in mid/late May.
Audiobook lovers!
The Nature of the Game (Stick Side #2) is now here on audio! Narrated by Adam Lawrence, this is officially my favourite of all my audiobooks. I know I only have three for sale, but still… Adam did an amazing job with this one. Chapter nine—you guys, I laughed so hard!
You can find it on Amazon, Audible, and Apple. It's also been Whispersynced!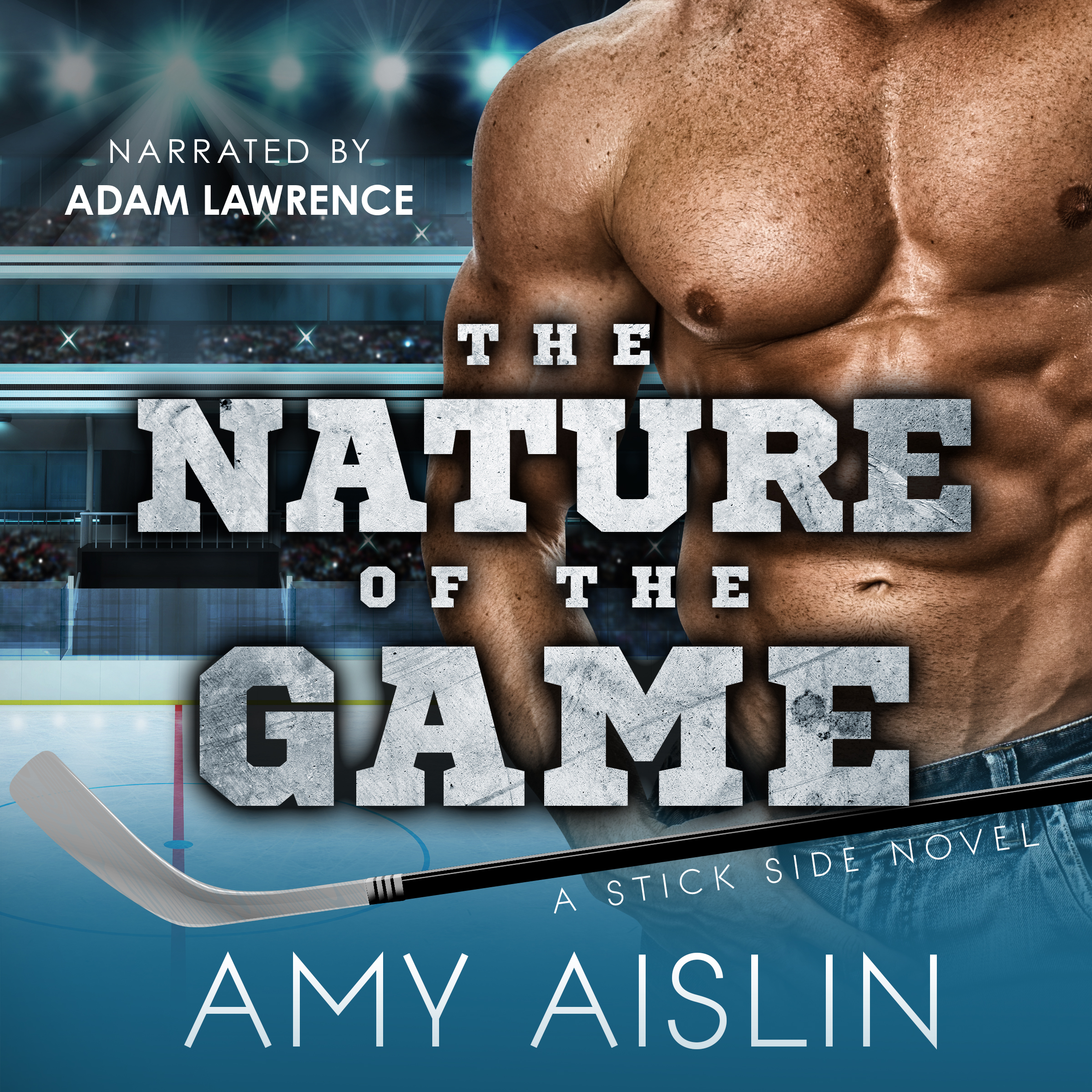 More audiobook news! Adam Lawrence is going to start narrating Shots on Goal (Stick Side #3) in March. I don't expect to have this for sale until the summer, though. Adam is a full-time high school chemistry teacher, so he records in his spare time and we anticipate it'll probably take him until end of May to record Shots on Goal.
Michael Franklin has completed his narration of Keeping Kellan (Keeping Him #2), which you should see for sale in March!
And finally, don't forget to check out the Your Book Boyfriend's Boyfriend giveaway on Prolific Works, where more than 100 m/m romance novellas are available free until the end of the year. My contribution is Chasing Sunsets! Check out the cover and blurb below!
Check out all of the books here.
↓
↓
↓
↓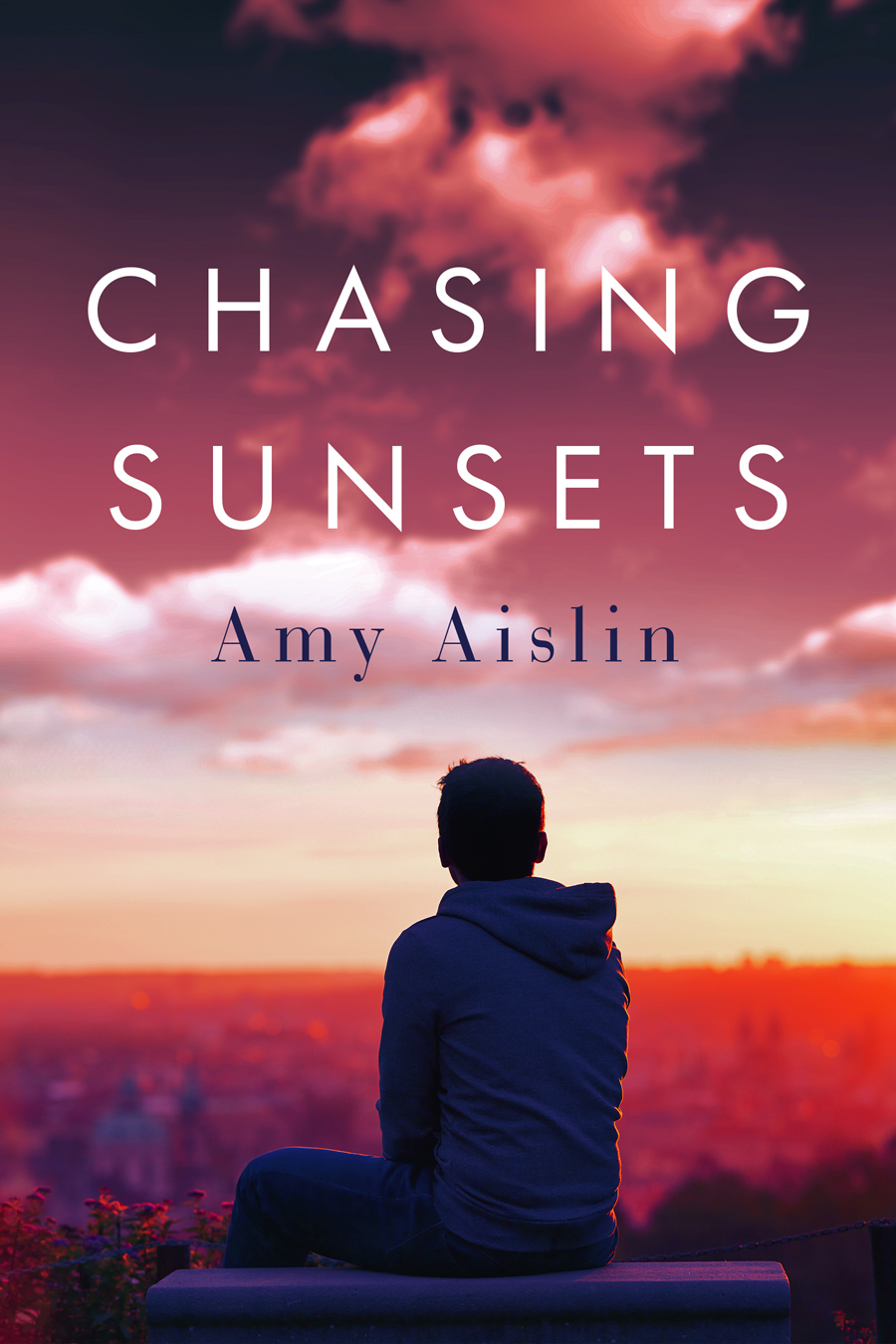 A sex scandal wasn't how NHL player Dane Roxborough imagined starting his summer. Neither was fleeing Boston with his tail between his legs. Seeking refuge at his parents' inn in his hometown, all he wants is to hide from the press…and reconnect with his college sweetheart.
Grant Lilly's had enough of broken hearts. Sure, Dane still owns his, but that doesn't mean anything when Dane left him to play hockey once already. Grant has a life and a career in Glen Hill, and he doesn't need Dane resurrecting old feelings.
Amid Green Mountain summer nights, can Dane and Grant chase the sunset to their happily ever after?
What was your favourite read of the month? Leave a comment below!