*hides in a corner*
I was so busy in March and April that I sort of…forgot…to do a High Five Friday post for those months. Oops! My bad. So here's a lengthy recap of my past few months, including favourite reads, my travels to Australia, and a writing update!
Today, let's look back on March, April, and May and look forward to June. (How is it already June??)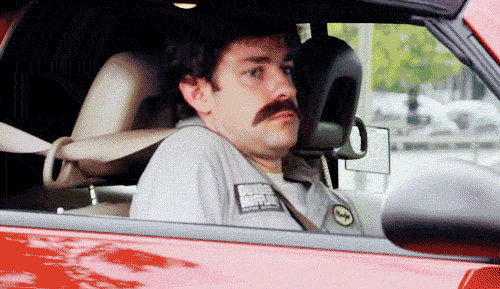 Favourite March, April, and May reads
I didn't even know E.L. Massey had released Like There's Nothing Left to Prove until someone in my reader group had told me! This is the second novel in the Breakaway series, which 100% needs to be read in order. This one features the same characters from the first book, Like Real People Do, and begins right after the end of it. Both are worth a read as the characters are just the absolutest cutest. If you enjoy new adult(ish) hockey romance between two characters who are there for each other, give these a read.
Friends by Nora Phoenix is the second book in her White House Men series. This series also needs to be read in order since there's an overarching terrorism plot that weaves through all of the books. Friends was a slow-burn friends to lovers romance that was just so beautifully done.
Where They Belong by L.C. Chase was a sweet summertime romance. If you enjoy cowbows + cowboy bodyguards + second chance romances + gorgeous Colorado scenery, give this one a go!
I'm very late to the Lucy Lennox bankdwagon, and Say You'll Be Nine was only my second solo work by her (I've read some of her co-writers before). I just loved this book so much. The cabin setting, the forced proximity, the banter, the chemistry between Cooper and Nine, the not-so-fake boyfriends trope. It was funny and heartwarming but also had character depth and great side characters.
Lose You to Find Me by Erik J. Brown was probably my favourite read of May. This young adult contemporary novel was just wonderful! Totally different from this author's debut novel, All That's Left in the World (also a five-star read), but just as compelling. Our main character, Tommy, is super relatable, though not without flaws. He's funny and snarky and self-deprecating at times, loyal and kind and sweet, but he's also determined and stubborn and sometimes sees the world through a very narrow lens. He does a lot of growing up in this coming-of-age novel. In his acknowledgements, the author says he pitched this as "Empire Records" but set in a retirement community, and honestly…that's pretty damn accurate!
Woods of the Raven by Mary Calmes was honestly just…fun. It had been a while since I'd read a book by this author, and this one was full of magic and whimsy and a very sweet romance.
Books I'm looking forward to reading in June
I'm a huge fan of Layla Reyne's books, and I'm super excited for the June release of the final installment in her Perfect Play trilogy, King Hunt. This trilogy has a single dad, a marriage of convenience, competent men, and plenty of swoons.
R.M. Neill's Blaze is also releasing in June. I really enjoyed this author's other cowboy romance, Colby, and I look forward to this one.
I've been listening to Lucy Lennox's Aster Valley series on audio, which has been a lot of fun. I'm currently listening to Sweet as Honey, so next up is Hot as Heller!
I loved Jonny Garza Villa's Fifteen Thousand Miles From the Sun, so I've been excited to read Ander & Santi Were Here since it was first announced. I finally received my copy in the mail and I'm looking forward to giving it a read in June. This young adult contemporary novel is about a nonbinary Mexican American teen falling for the shy new waiter at their family's taqueria.
Game Plan (Vancouver Orcas 1)
Did you miss my new release? Check it out below! It's available on ebook, audio, paperback, and special illustration paperback that also includes a bonus scene and custom character artwork on the inside. Love second chance romances? Grab it today if you haven't already!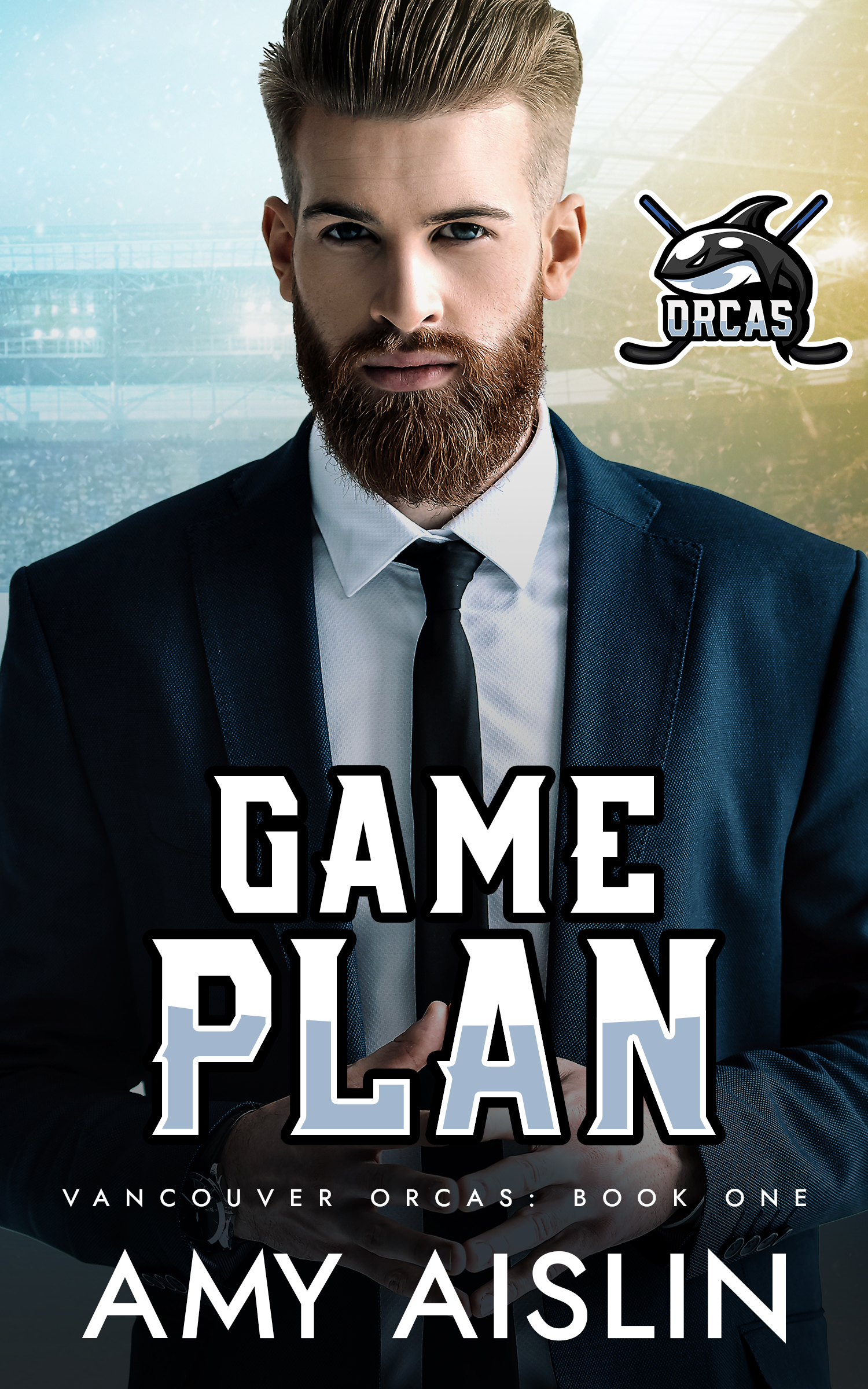 As the new head coach of the Vancouver Orcas, Matt Shore has got his work cut out for him. Coming off a season where the Orcas came in last in the entire AHL, Matt's job is to whip his new hockey team into shape for the oncoming season.
He doesn't need any distractions, especially not one in the form of a tall, dark, and gorgeous antiques dealer.
Who's also his ex—and his best player's father.
Pierce Langley-Brown has a lot of regrets. The biggest? Leaving Matt behind two years ago when his son needed him. Now, with his son on Matt's hockey team, there's no avoiding the man who once owned his heart.
Not that Pierce wants to avoid him. And that heart? It still belongs to Matt.
But will Matt choose to keep it after all this time?
Get it here:
Game Changer (Vancouver Orcas 2)
The second book in the Vancouver Orcas trilogy is complete and with my copyeditor! Game Changer releases on July 18.
What can you expect from Game Changer?
A boss/employee romance
An assertive baker with an inappropriate apron
A hockey player who can't seem to prioritize his own life
Apology sandwiches
Read the blurb or find the pre-order links here!
Get Frosted
I'm taking a quick break from the Vancouver Orcas trilogy to write a little Christmas romance! (Don't worry…I'll be writing Dorian Shore's story after that!)
Get Frosted will feature a best friend's brother's romance between rival pub/bar owners in a small town that lives and breathes Christmas. I can't tell you much more about it yet since I've barely started writing it, but look for that in mid-November.
I took my first ever trip to Australia in April, and it was AMAZING! I attended GLO (Gay Lit Oz) in Sydney and RARE in Melbourne, where I got to meet tons of readers and other authors. Plus, my friend and I made a vacation out of it (I mean, we're spending all that money on the flight and we're going all that way from Canada…we had to make the most of it, right?), and we got to tour Sydney, Melbourne, and Cairns! But meeting some of my favourite m/m romance authors was truly amazing!
In Sydney, we saw the Sydney Opera House, Darling Harbour, the Blue Mountains, and the Rocks Market. In Melbourne, we visited Phillip Island to see the world's smallest penguins (we bumped into fellow m/m romance author Carly Marie here!) and took a tour along the Great Ocean Road. In Cairns, we snorkelled at the Great Barrier Reef and took the Skyrail to Kuranda, the village in the mountains, where we got to feed kangaroos and wallabies and hold a koala! Two weeks was truly not enough time, but alas, real life called and we had to return home. But we did so with lots of new memories and having made some new friends, including readers who visited my table at GLO and who were just the loveliest bunch of people.
Pictures below! The collage of sightseeing images are from, left to right: (rainbow) the walk along the coast from Bondi Beach to Coogee Beach; me holding a koala; the sunset at the 12 Apostles along the Great Ocean Road; me in front of the Sydney Opera House and Sydney Bridge; me and my friend snorkelling at the Great Barrier Reef; the Blue Mountains; me and my friend on the Ferris wheel in Cairns; and me feeding a wallaby.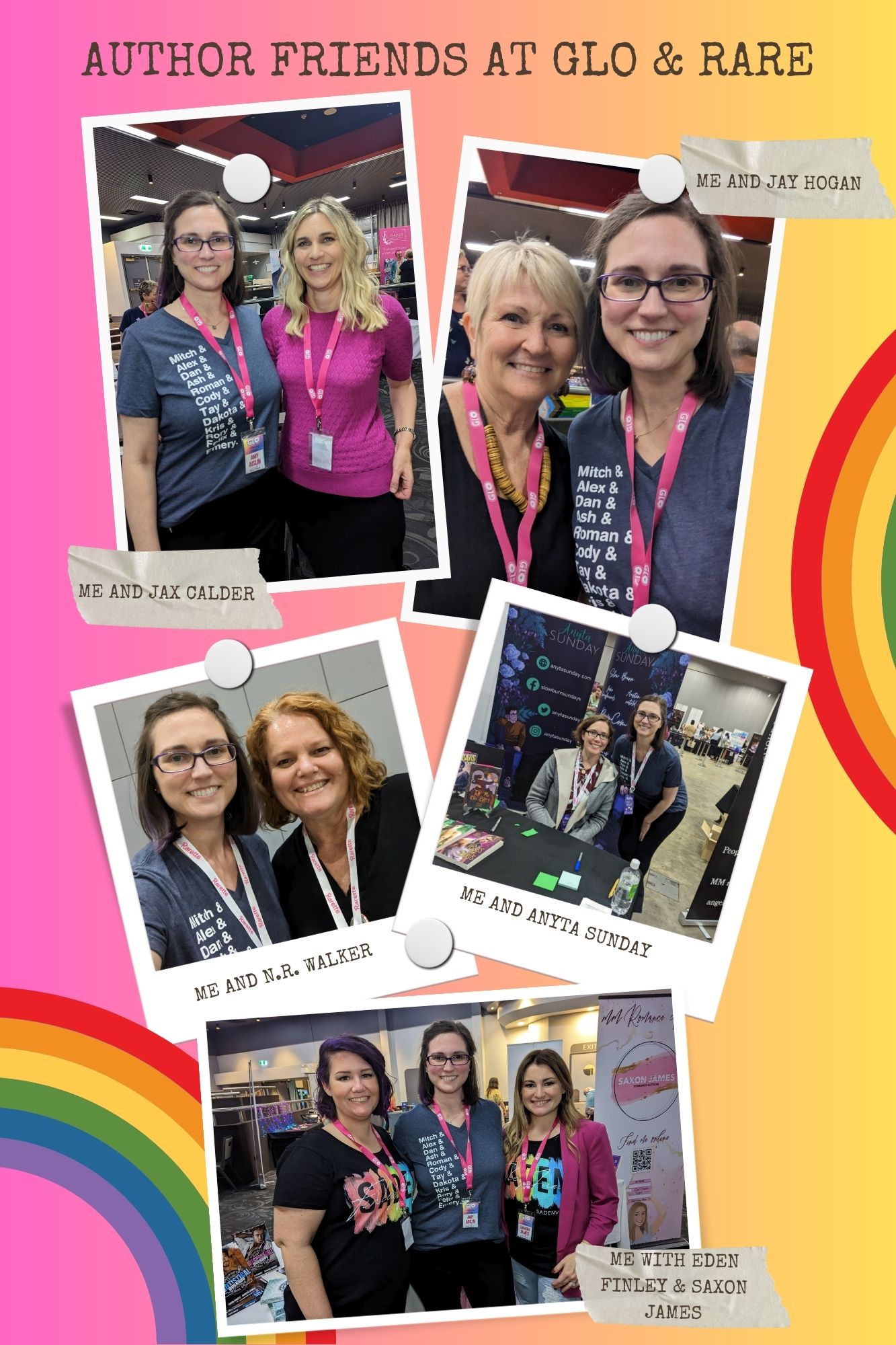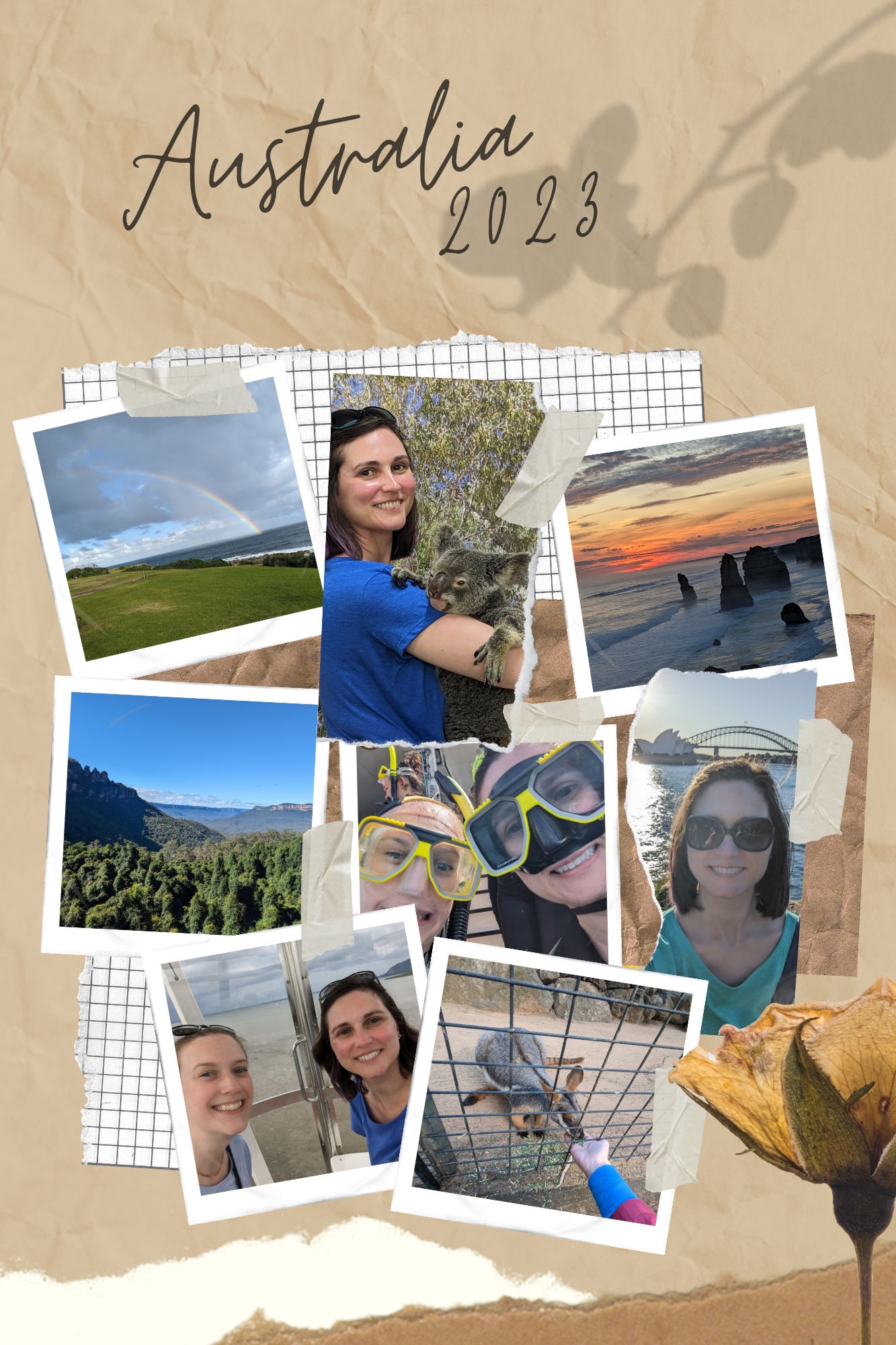 Have you been to Australia?? Tell me all about it! What was your favourite part?