Welcome to my June blog post. Today, I'm looking back on some of my favourite books that I read in June, what I'm looking forward to reading in July, and there's a writing update below. Let's go!
Favourite June reads
I quite enjoyed Lisa Henry's Full Throttle. It's part of a multi-author, shared world series, but it stands completely on its own. I would've liked to see more Formula 1 racing, but the romance between Lennox and Connor was just so very sweet.
The Art of Husbandry by Jay Hogan was lovely. Holden and Gil were so likeable and their romance was so sweet. The setting and the secondary characters added extra oomph. It deals with the loss of a child, so it is a little sad, but overall very low-angst and a wonderful romance about discovery.
Butterflies I Have Known by Kristoffer Gair is a gem that I discovered thanks to a reader who recommended it to me. It's about two men who are, on the surface, polar opposites…and who might just be the reincarnated souls of ill-fated WWII soldiers. This underrated book was a joy to read and I just loved Jian and Matthew's journey to their hard-won HEA.
Ander & Santi Were Here by Jonny Garza Villa is a new adult novel about Ander, a non-binary gay recent grad in San Antonia who takes a gap year before college to paint murals. They fall in love with the new server at their family's taqueria, but when ICE agents come for Santi…well, I can't spoil it, can I?? Ander and Santi's romance was just the absolute cutest. Filled with often-hated insta-love, but it works here in a way that's believable.
And finally, I started listening to Cole McCade's Criminal Intentions series on audio, and I have to say…I'm super into it. Book one had more detailed and grizzly crime scene details than I tend to like in my books, but I can't deny that it really added to the atmosphere of the book. The main characters are so intriguing, though, that I can't stop listening and I'm now on book two.
Books I'm looking forward to reading in July
I've been seeing Malum Discordiae by Ashlyn Drewek all over Instagram, and after seeing it one time too many, I finally caved and looked up the blurb. And it definitely sounds like something I want to read. A dark academia, paranormal MM romance about witches, Necromancers, and a blood feud that has lasted centuries? Um, yes please.
Heartbreak Hockey by S. Legend has been on my Kindle since April. I bought it thinking I'd read it on the plane to or from Australia, but I ended up bingeing a bunch of TV shows instead. It recently came back up on my radar in one of the Facebook m/m romance rec groups when someone asked for hockey romance, which reminded me that I own it, so…here's to finally reading it!

Not gonna lie…I don't have the faintest idea what Briar Prescott's Until You is about. None. I just know that I've really enjoyed her previous works, so of course I'm going to read this one.
Washed Up Former Child Star Ryan Lee by Lisa Henry & J.A. Rock sounds kind of angsty, but my curiosity is peaked. Second chance romance between a couple of child actors. Bring it!
The Sun and the Star by Rick Riordan and Mark Oshiro is part of the Percy Jackson universe…of which I've only ever read the first book and that was years ago. But this one came in my most recent Rainbow Crate Book Box, so I'll give it a try and cross my fingers I'm not hopelessly lost. I've been told it can be read as a standalone, so we'll see.
Game Plan (Vancouver Orcas 1) — $0.99 sale
If you're reading this blog between June 30 and July 11, 2023, Game Plan is on sale for $0.99 across all retailers. Get it at this awesome price and catch up on the Vancouver Orcas trilogy before book two, Game Changer, releases on July 18. Plus, you can add the Whispersynced audio for only $7.49!
As the new head coach of the Vancouver Orcas, Matt Shore has got his work cut out for him. Coming off a season where the Orcas came in last in the entire AHL, Matt's job is to whip his new hockey team into shape for the oncoming season.
He doesn't need any distractions, especially not one in the form of a tall, dark, and gorgeous antiques dealer.
Who's also his ex—and his best player's father.
Pierce Langley-Brown has a lot of regrets. The biggest? Leaving Matt behind two years ago when his son needed him. Now, with his son on Matt's hockey team, there's no avoiding the man who once owned his heart.
Not that Pierce wants to avoid him. And that heart? It still belongs to Matt.
But will Matt choose to keep it after all this time?
Get it for $0.99 June 30 – July 11, 2023:
Amazon | Apple | B&N | Kobo | Smashwords | Whispersynced Audio
Game Changer (Vancouver Orcas 2)
The second book in the Vancouver Orcas trilogy releases on July 18! Are you ready for Charlie and Blair's story?
What can you expect from Game Changer?
A boss/employee romance
An assertive baker with an inappropriate apron
A hockey player who can't seem to prioritize his own life
Apology sandwiches
In case you missed the cover and blurb reveal, check it out below and pre-order it today.
It's Blair Brawsiski's ride or die year. After a decade in the AHL, if he doesn't get called up to the NHL this season, it's time to hang up his skates and focus on other things. But between a second job and family priorities, his attention isn't where it should be, and his dreams of making it to the big leagues are dwindling by the day.
Hiring a personal assistant to help out with day-to-day stuff? Probably the smartest move Blair's made in a while.
But when that PA turns out to be an assertive baker who's exactly Blair's type? Blair can't help but wish those dexterous hands would knead something other than pastry dough. Namely, him.
Charlie Shore needs extra income. Desperately. With his expenses about to go up, it's find a second job or get evicted. Getting hired as Blair's PA is perfect: flexible hours, decent wages, and a scorching hot professional hockey player who's willing to let him use his gorgeous kitchen for his baked goods.
Too bad that hockey player is exactly Charlie's type. Too bad Charlie knows better than to date his new boss…
Pre-order it today:
Shots on Goal (Stick Side 3) — the audio is finally here!
After much waiting, the audiobook of Shots on Goal (Stick Side #3) is finally here and I couldn't be happier with Adam Lawrence's narration. As usual, he's done a fantastic job of bringing my book to life!
Get Cody and Roman on audio today.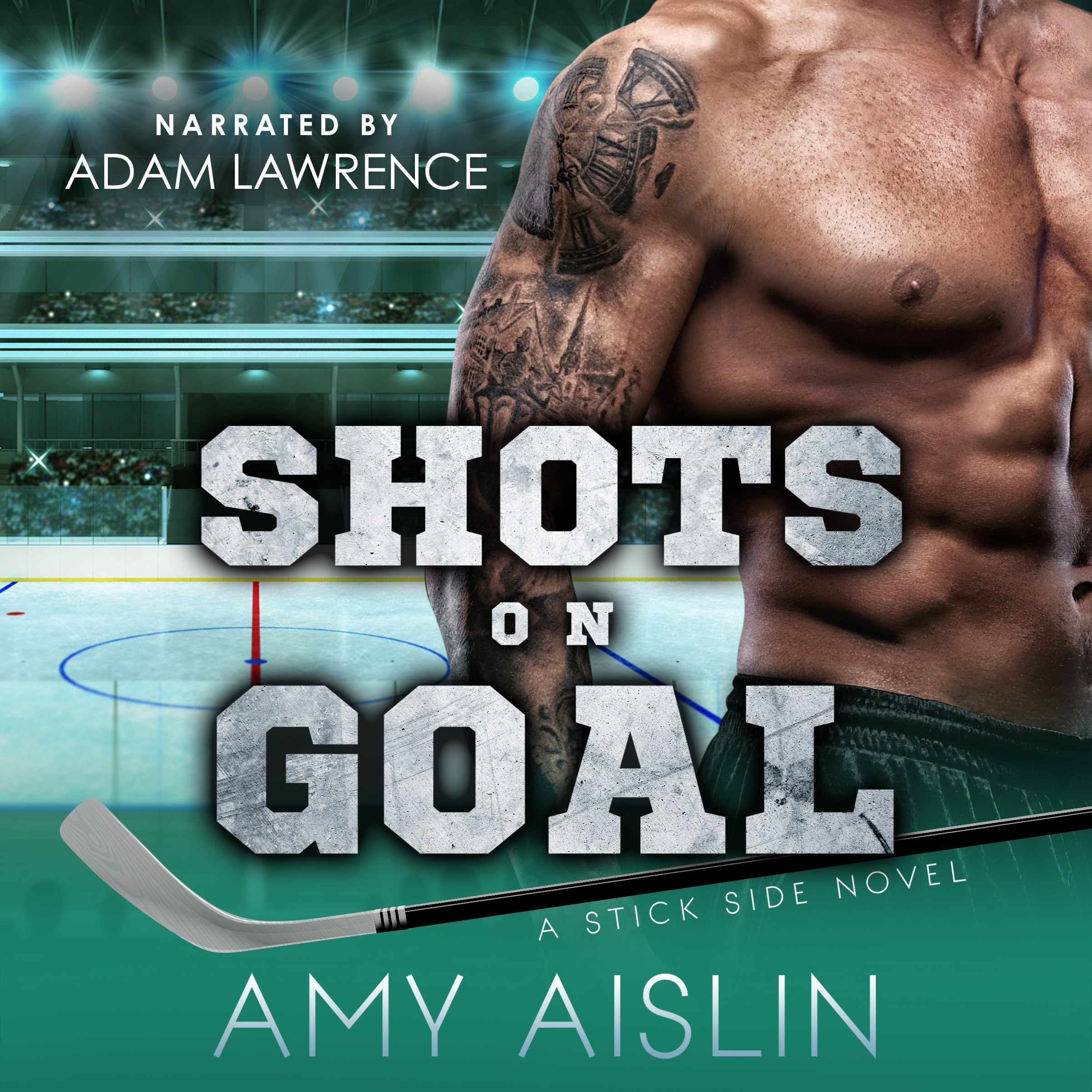 Get Frosted
Last month, I announced that I was taking a quick break from the Vancouver Orcas trilogy to write this year's Christmas novel, Get Frosted.
Get Frosted will feature a best friend's brother's romance between rival pub/bar owners—who were also rival hockey rivals once upon a time—in a small town that lives and breathes Christmas. I'm about a quarter into writing this book and looking forward to having it out in the world in November.
Game On (Vancouver Orcas 3)
I'm super excited to write Dorian Shore's story once I finish Get Frosted. Dorian's story will finish out the Vancouver Orcas trilogy, which is both bittersweet and exciting.
At the beginning of 2023, I had announced that all three books in the Vancouver Orcas trilogy would release in 2023, but unfortunately, I had to push back Game On to January 2024. Earlier this year, I was invited to participate in a shared world project (more on that next month), and my contribution for this project has a fixed deadline, whereas Dorian's story doesn't. I had intended to write Game On first, but I would've been pushed for time for both it and the special project, which means you wouldn't have gotten the best story out of me possible. Plus, when I push myself to complete books on tighter timelines, I'm more likely to hit burnout—and I've been in burnout before and have no desire to go back there.
I know it's disappointing that you won't get Vancouver Orcas 3 this year, but I hope Dorian's story will be worth the wait! Thank you for your understanding and patience.
What was your favourite June read? What's on your TBR for July? Tell me below!