In my April 3rd post, Why I write m/m romance, I mentioned that I'd post my recommendations on where to start your gay romance journey if you've never read it before. As promised, here are my suggestions.
Young Adult
If the thought of two dudes having sex wigs you out and you want to start easy, I recommend either of the two YA books below.
Carry On by Rainbow Rowell or Simon vs. the Homo Sapiens Agenda by Becky Albertalli. You can find both at your local bookstore or library. The first is a fantasy reminiscent of Harry Potter; the second is about a closeted high school kid. Both are sweet, funny, and low angst. The most action the MCs see is a bit of kissing. (MC=main characters)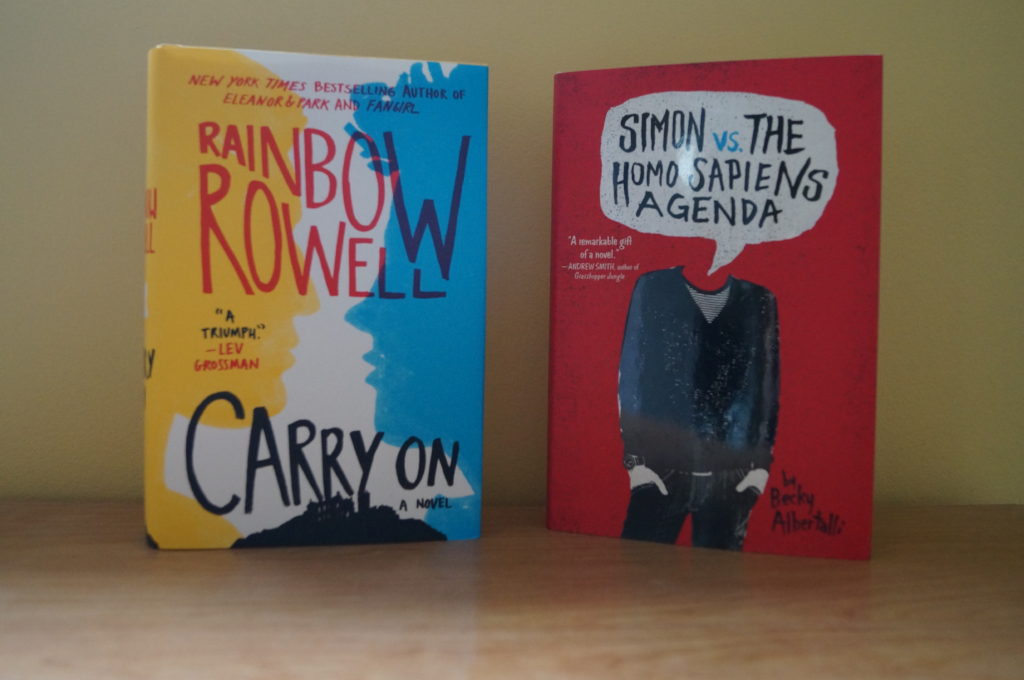 Suzanne Brockmann's TroubleShooters
Suzanne Brockmann writes military romance featuring a man and woman falling in love. The TroubleShooters series has about 14 books, if I remember correctly. Jules Cassidy is an out-and-proud FBI agent introduced early in the series. Book #8, Hot Target, introduces Jules's love interest, a complete hot-mess, closeted actor named Robin Chadwick. Now don't get scared! Jules and Robin's relationship in Hot Target is pretty tame (remember, Robin is closeted), and it's also the book's secondary storyline, taking a backseat to the main love story between Robin's sister and a Navy SEAL. Ergo, it is not heavy on the steam.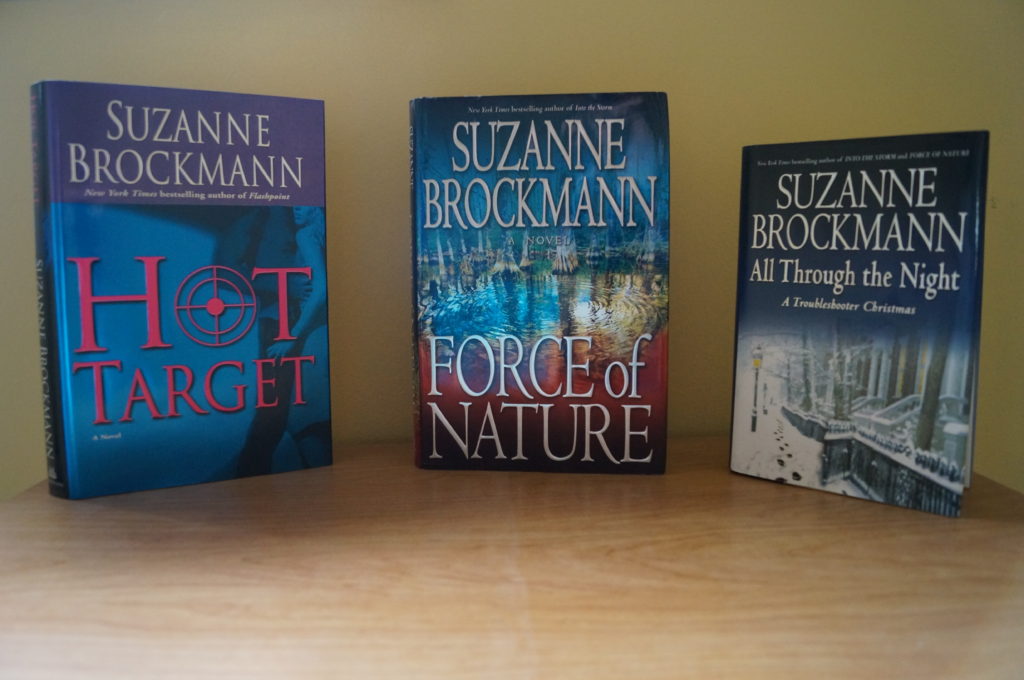 Sarina Bowen
Sarina Bowen writes both m/m and m/f. If you're really leery of trying m/m, start with Sarina's Ivy Years series: the first two books (The Year We Fell Down and The Year We Hid Away) are m/f. Book three, however, The Understatement of the Year, is m/m and is phenomenal! If you like Understatement, I suggest reading Sarina's two-book series, Him and Us. Note that Sarina's sex scenes are, um, graphic. If this squicks you out, you can always skip them and read the non-sex parts.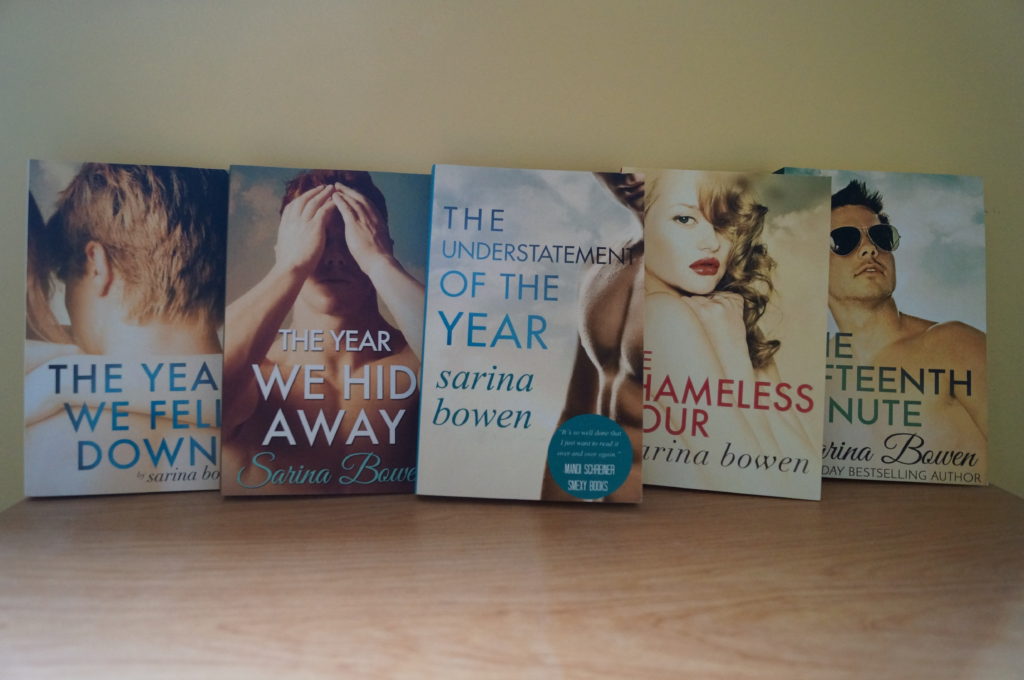 Friends to lovers
The four books below are friends-to-lovers books. Friends-to-lovers is one of my favourite tropes 🙂
Switched by NR Walker: one of my favourite reads of 2017. Sam and Israel's relationship is sweet and touching and angst-free. The book is not heavy on sex scenes, but the ones that are there are mildly graphic. Again, you can skip them. I highly, highly recommend this novel.
Pillow Talk by JH Knight. Bonus! This story is free! You can find it here. I love, love, love this story. Jimmy and Scott are hilarious together; JH Knight knows how to do banter. In the reviews, somebody described the story as "like sugar in text-form." I won't refute that because it's 100% true. Again, the sex scenes aren't many, and they're also not too graphic.
Leo Loves Aries by Anyta Sunday: A great slow-burn romance with great banter!
Rock by Anyta Sunday: If you want to be taken on a beautiful, emotional journey, this book's for you. Anyta Sunday writes in such a way that you can actually feel the characters' emotions. Have tissues nearby for the last 30% or so. This is one of the strongest books I've ever read.
All the angst
If you want something to really sink your teeth into, something gritty and emotional, yet funny and heart-warming, try Bear, Otter, and the Kid by TJ Klune. You'll cry, you'll laugh, you'll roll your eyes, you'll want to punch Bear in the face and throw your e-reader across the room. I promise it's all worth it!
Additional recommendations, just because
The Lightning-Struck Heart by TJ Klune. This book is a total one-eighty from TJ Klune's Bear, Otter, and the Kid. Lightning is literally laugh-out-loud hilarious. I LOL'd on public transit on my way to and from work so much. Tears of laughter, guys. Tears of laughter. You've got a hornless gay unicorn, a half-giant, a knight in shining armour, a reprehensible prince, a sexed-up dragon…and Sam of Wilds, our hero. Read it. You won't be disappointed.
Ngozi Ukazu's Check, Please! It is the cutest, most adorable web comic about a pie-baking vlogger named Eric Bittle and his teammate Jack Zimmermann. Jack and Bittle play on the same college hockey team and they're surrounded by a cast of hilarious and endearing characters. I am OBSESSED with this web comic…I check Ngozi Ukazu's Tumblr page at least once a week for updates. I love it so much I backed the Kickstarter campaign and got myself a hardcover copy of the first and second years of the comic. Guys, read it! Please! I'd love to have someone to obsess over it with. You can find it here.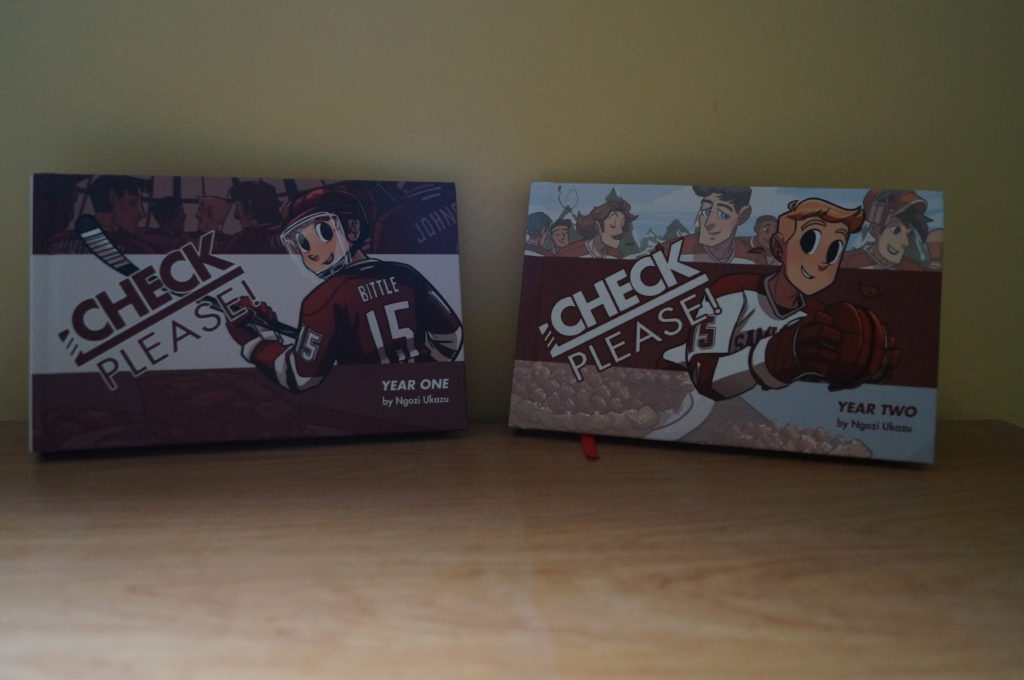 If you decide to try one of these books, I'd love to know what you think of it! Either comment on this blog post, find me on Facebook, or send me an email. Cheers and happy reading.
Photos by Amy Aislin. Disclaimer: These are my personal book recommendations. This post has not been endorsed by any of the authors mentioned above.