Today, let's look back on April and look forward to May.
Favourite April reads
Someday, Someday by Emma Scott was phenomenal! Silas and Max are everything and I adored this from beginning to end.
The Spooky Life by S.E. Harmon is officially my favourite of the Spectral Files series. I just adore Danny and Rain and this one had the perfect mix of paranormal and romance.
Boyfriends by Refrainbow is an adorable web comic I stumbled across on Webtoons. It's about four college boys who enter into a polyamorous relationship. It's super cute and I laughed out loud more than once.
I was pleasantly surprised by Vanessa Len's Only a Monster. (You never know with a debut novel.) Ultimately, the writing was simplistic, the side characters weren't fully fleshed out, the romance was undeveloped, the monsters weren't very monster-y, and several plot points were much too convenient. BUT. I really enjoyed the premise; it was unique in a land where many YA fantasy novels are the same. I really liked how fast-paced it was. Honestly, I devoured this in two sittings and really enjoyed it!
Books I'm looking forward to reading in May
Every Word You Never Said by Jordon Greene looks adorable and sweet. It's a young adult romance between two high school boys that apparently also deals with themes of bullying and homophobia.
Never Been Kissed by Timothy Janovsky is a new adult LGBT romcom releasing in May. It's about a guy who works at a drive-in and sends an email to all the boys he loved before he came out. Sounds cute, right?
I've had Whispering Wildwood by Emma Sterner-Radley on my TBR for a few months now, and I figure it's high time I pick it up. It's an adventure fantasy novel with an f/f romance featuring a rogue pirate and a creepy magical forest.
I'll read anything Maggie Stiefvater writes, so of course Bravely is going on my TBR for May since it releases May 3. It's a story about Merida set several years after her adventures in the Disney movie Brave. Here, she goes on a new adventure in attempt to save the kingdom.
I've heard nothing but good things about Cute Mutants by SJ Whitby from my Bookstagram friends. It's also on my 12 Challenge for 2022, which is a challenge where I'll read 12 books recommended by 12 friends. I've only read three books off this list so far. Cute Mutants is on that list, so I plan on reading it in May. Apparently, it's full of diversity rep, too!
TBR Wrap-Up: April
On last month's High Five Friday post, the books below were on my TBR list. Here's what I thought about them.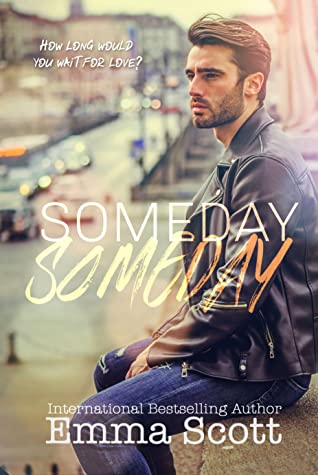 All the stars! This was romantic and swoony and kind of angsty and just super beautiful! I wish Emma Scott had more m/m romances I could devour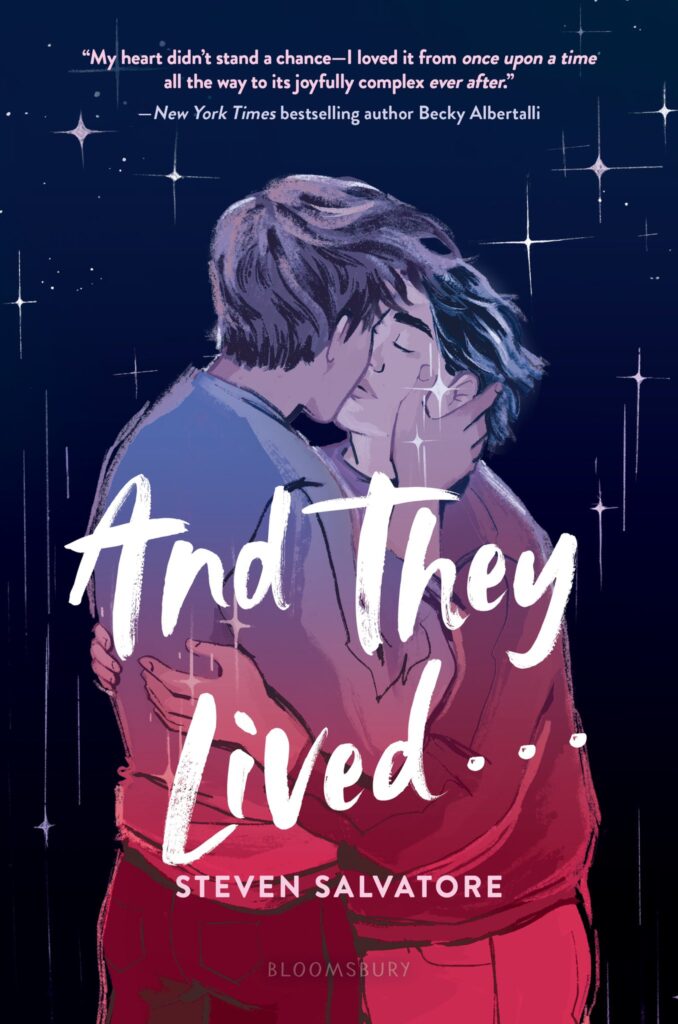 DNF on page 12. I think this is the earliest I've ever DNF'd a book. I didn't click with the writing and the numerous pop culture references in just 12 pages all went over my head.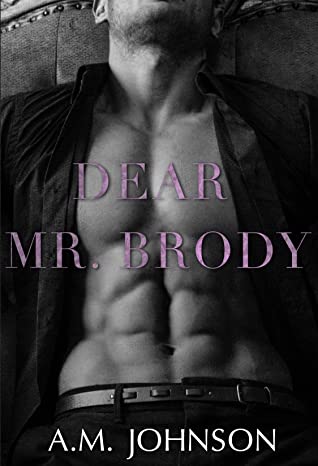 This one was enjoyable! Donovan and Parker were cute together and the narration of the audiobook was great.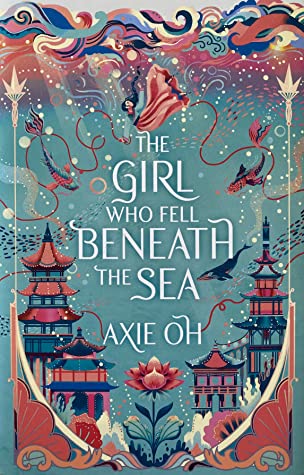 Loved this one! It's about a girl who flings herself into the sea to save her family and appease the vengeful Sea God. Great storytelling!
The 12 Challenge
If you're on Instagram, you might've seen the 12 Challenge going around at the beginning of the year. The goal is to read 12 books recommended by 12 friends, and I'm going to be participating!
These are the 12 books that have been recommended to me by 12 of my Instagram friends.
I've read three so far:
Always Eli by Charlie Novak: cute and sweet. My fist novel by this author, but it certainly won't be my last.
Off Balance by Jay Hogan: incredibly lovely and one of my favourite reads of the month.
Let There Be Light by A.M. Johnson: Camden and Royal were absolutely perfect together and the writing was just beautiful.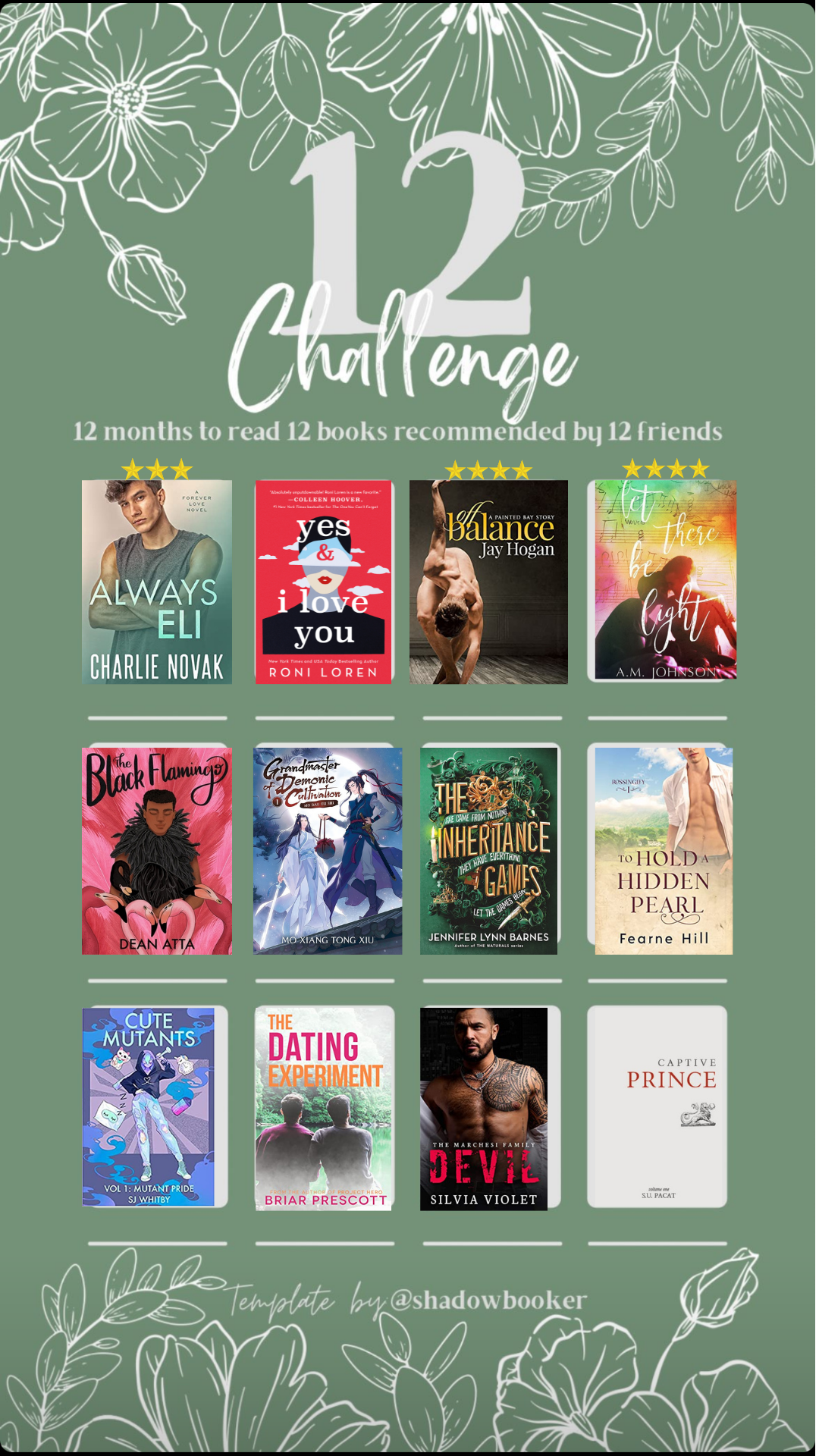 On the writing front
Sweet to the Core (Lighthouse Bay #3) is up for pre-order! Release date is May 17, which is just around the corner. Check out the cover and blurb below!
Dev has pined for his cousin's best friend for years, but no matter how hard he wishes, Clark sees him as nothing but a friend. And it's as a friend that Clark comes to him for help.
Clark's father is on the brink of losing his house and the fastest way to make a quick buck is to win the $10,000 prize in the inaugural Sweet to the Core apple baking contest. Only problem? He's never baked anything that hasn't come out of a box.
But Dev has. As a baker, he's Clark's best chance.
For the first time, Dev has something Clark wants. Only problem? Dev needs the prize for himself. The only thing he wants—besides Clark—is to buy the local lighthouse where he last spent time with his parents before they died.
Working together means opening a lot more than a barrel of apples, though. They may have found the recipe to love.
But will Dev have to give up the only connection he has left to his parents in order to have it? Or will Clark let his father down? They can't both have everything.
Or can they?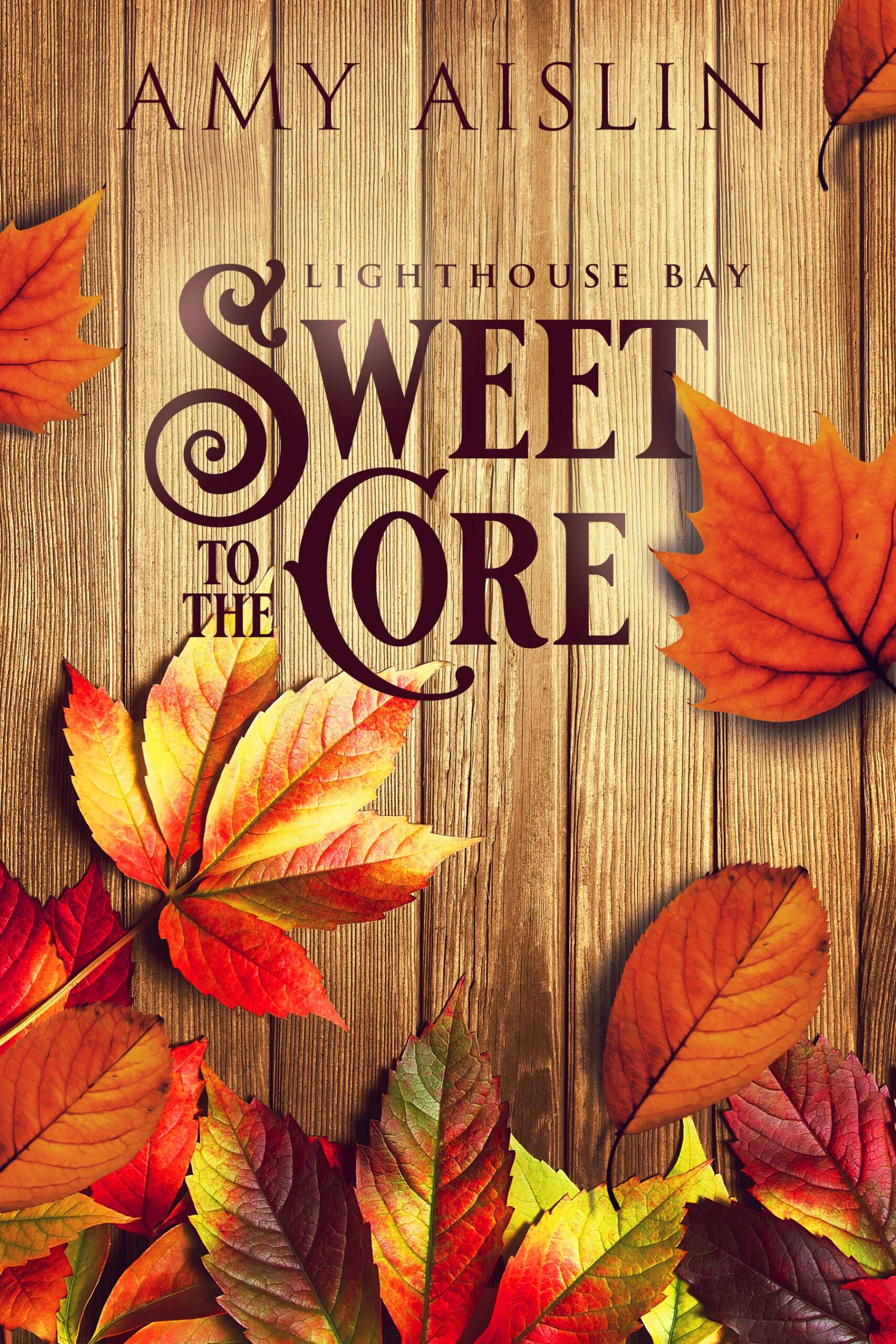 In other book news, my current WIP is called
A Gift-Wrapped Holiday
and I'm almost finished writing it! I've got about 10K left, then it'll be revision time, then it'll be sent to my beta readers. It's got a small town, a divorced dad, and a California boy suffering through a wintery Maine Christmas.
Check out the blurb here.
This one is coming November 22, right in time for the holidays, and you can
pre-order it here.
And finally, don't forget to check out the Your Book Boyfriend's Boyfriend giveaway on Prolific Works, where more than 100 m/m romance novellas are available free until the end of the year. My contribution is Chasing Sunsets! Check out the cover and blurb below!
Check out all of the books here.
↓
↓
↓
↓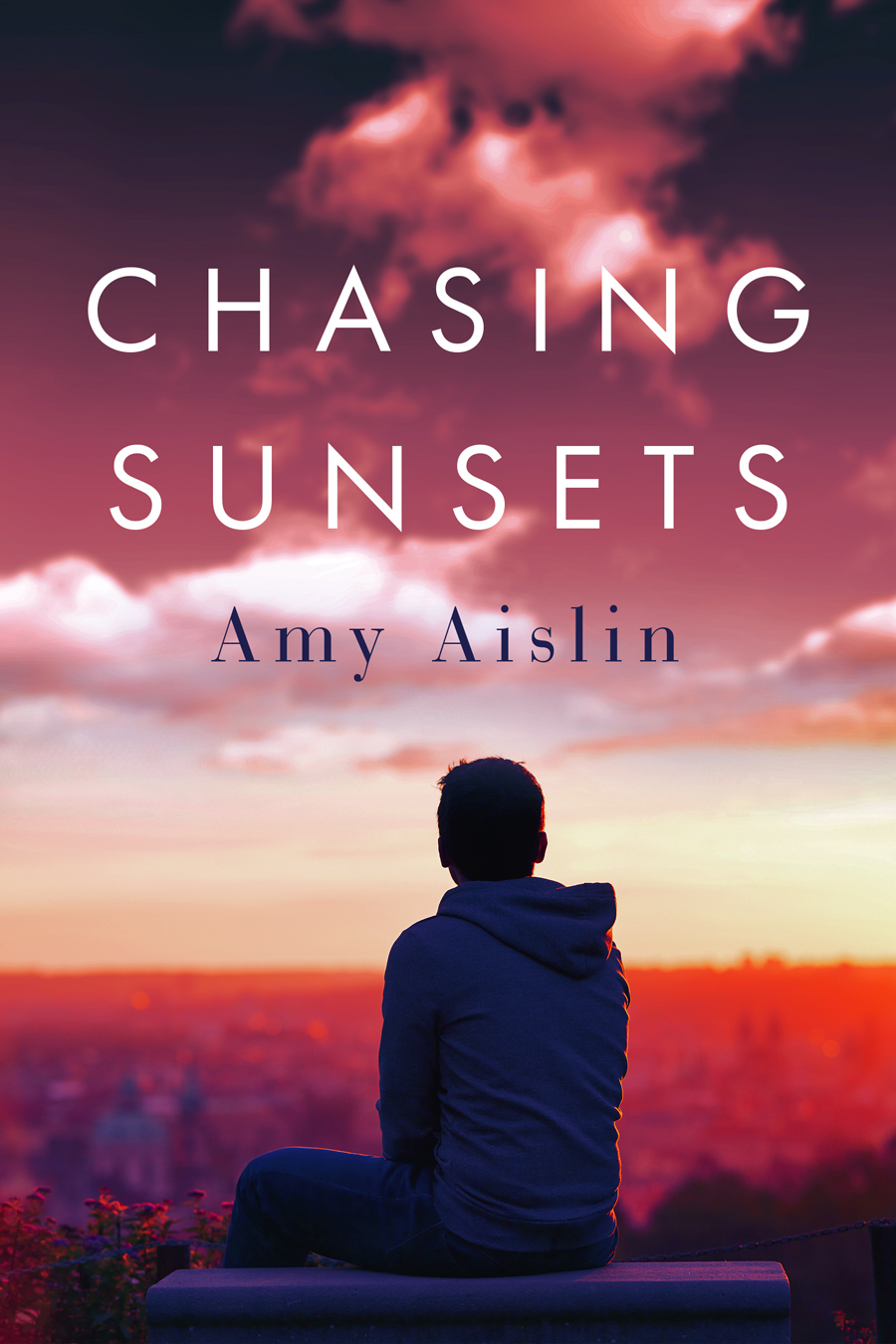 A sex scandal wasn't how NHL player Dane Roxborough imagined starting his summer. Neither was fleeing Boston with his tail between his legs. Seeking refuge at his parents' inn in his hometown, all he wants is to hide from the press…and reconnect with his college sweetheart.
Grant Lilly's had enough of broken hearts. Sure, Dane still owns his, but that doesn't mean anything when Dane left him to play hockey once already. Grant has a life and a career in Glen Hill, and he doesn't need Dane resurrecting old feelings.
Amid Green Mountain summer nights, can Dane and Grant chase the sunset to their happily ever after?
For a chance to win a $5 Amazon gift card (or a gift card to the e-store of your choice), leave a comment below. Tell me what you're looking forward to reading in May, tell me if you spotted any favourite reads above, or tell me what you're most looking forward to in Sweet to the Core. Winner will be chosen on May 6.