Today, let's look back on March and look forward to April.
Favourite March reads
I finished 15 books this month—6 audiobooks, 3 ebooks, 2 graphic novels, and 4 physical books. My favourites of the month are below. Just click on the covers to be taken to the book's Amazon page.
All That's Left in the World by Erik J. Brown was so good that I read it in one sitting. It's about two boys trying to survive in a world where most of the population has been wiped out by a superflu, so it might hit too close to home for some, but it was so incredibly well written and the super slow burn romance was too cute.
I'm a huge Maggie Stiefvater fan, so I'm not sure why I waited so long to read The Scorpio Races (it was published more than 10 years ago), but I'm so glad I finally did because it's well worth the read. It's not really an edge of your seat kind of read, but the writing is great and it has so many wonderful themes and great characters…plus water horses!
I am obsessed with When You Come Back to Me by Emma Scott. I forget how I discovered this book; I think it was through someone's stories on Instagram. Anyway, it was stunning! It's about two messed up boys who find solace in each other. It was angtsy AF, so it's certainly not an easy read, but the happy ending is so, so worth it.
Books I'm looking forward to reading in April
Since I loved Emma Scott's When You Come Back to Me so much, of course the logical next step is to devour her backlist, amirite? Sadly, she's only got two m/m romances, so I've got Someday, Someday on my TBR for April and I'm really hoping it's as good as When You Come Back to Me.
And They Lived… by Steven Salvatore came in my March Rainbow Crate book box. It's described as "a sex-positive, fairytale-inspired novel that celebrates first love and self-acceptance." It looks cute and I'm always a fan of college settings.
I've been waiting for A.M. Johnson's Dear Mr. Brody to release on audio for so long and now that's it finally here, it's going to be my next audiobook listen just as soon as I finish my current one. The whole teacher/student thing…ooh la la!
The final book on my TBR this month is The Girl Who Fell Beneath the Sea by Axie Oh, a magical young adult feminist retelling of a classic Korean legend. I just received it this week in my March Fairyloot box. The cover below is the exclusive Fairyloot edition and the photo really doesn't do it justice. It's so bright in real life and has gorgeous accents. The story sounds lyrical and lovely, doesn't it?
TBR Wrap-Up: March
On last month's High Five Friday post, the books below were on my TBR list. Here's what I thought about them.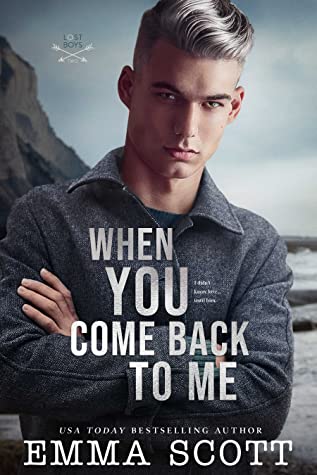 5,000 stars! I was immediately sucked into this story and I could not put it down. River and Holden are a mess for different reasons, but they find a little bit of peace in each other and…ugh. Just read it!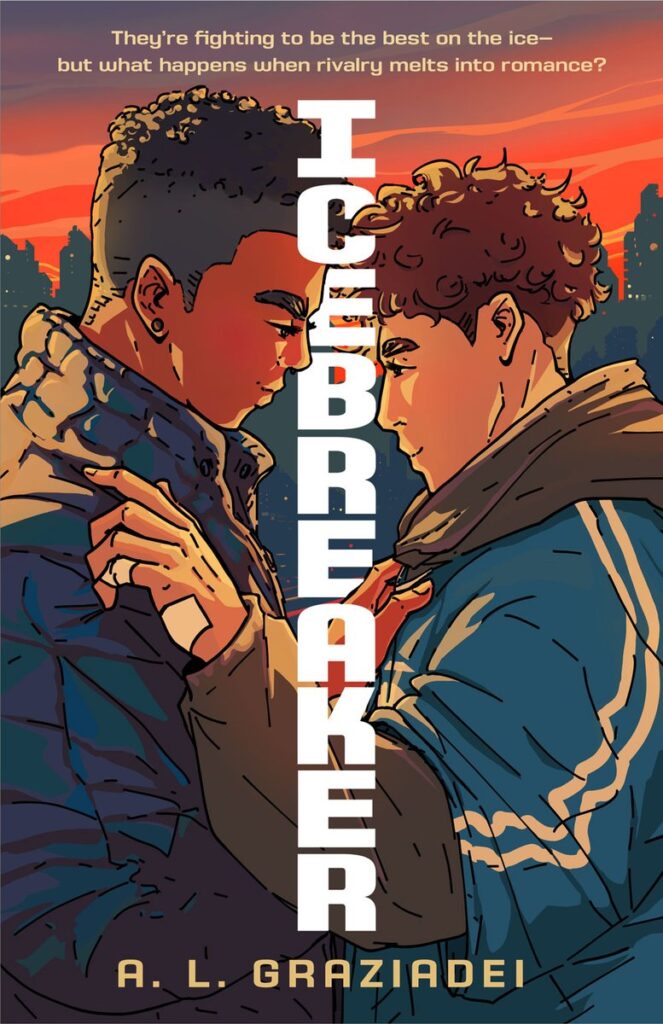 Another 5-star read! This was a little heavier than I expected—one of the main characters suffers from depression and anxiety—but it was such a great story and so well-written. Plus, rivals-to-lovers and college hockey, FTW! This is another book that I read in one sitting.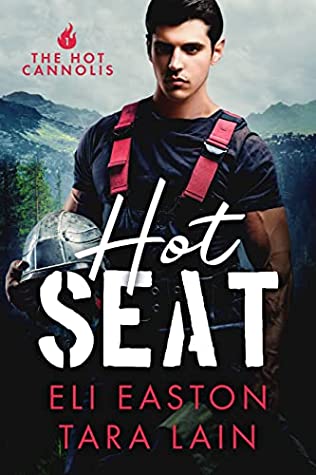 Oof. Two stars. There were a lot of issues with this one that prevented me from enjoying it, not the least of which was how Mike's mental state was so terribly handled and how he treated Shane like garbage for most of the book. Not my favourite from this writing duo. This review from a Goodreads reviewer accurately sums up my feelings about it.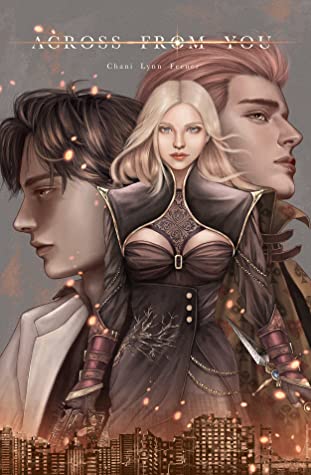 I read the Kindle sample for this one and decided it was not for me. I still think the story sounds like a really good one, but I wasn't clicking with the writing style, so I've stricken it from my TBR list.
The 12 Challenge
If you're on Instagram, you might've seen the 12 Challenge going around at the beginning of the year. The goal is to read 12 books recommended by 12 friends, and I'm going to be participating!
These are the 12 books that have been recommended to me by 12 of my Instagram friends.
I've read three so far:
Always Eli by Charlie Novak: cute and sweet. My fist novel by this author, but it certainly won't be my last.
Off Balance by Jay Hogan: incredibly lovely and one of my favourite reads of the month.
Let There Be Light by A.M. Johnson: Camden and Royal were absolutely perfect together and the writing was just beautiful.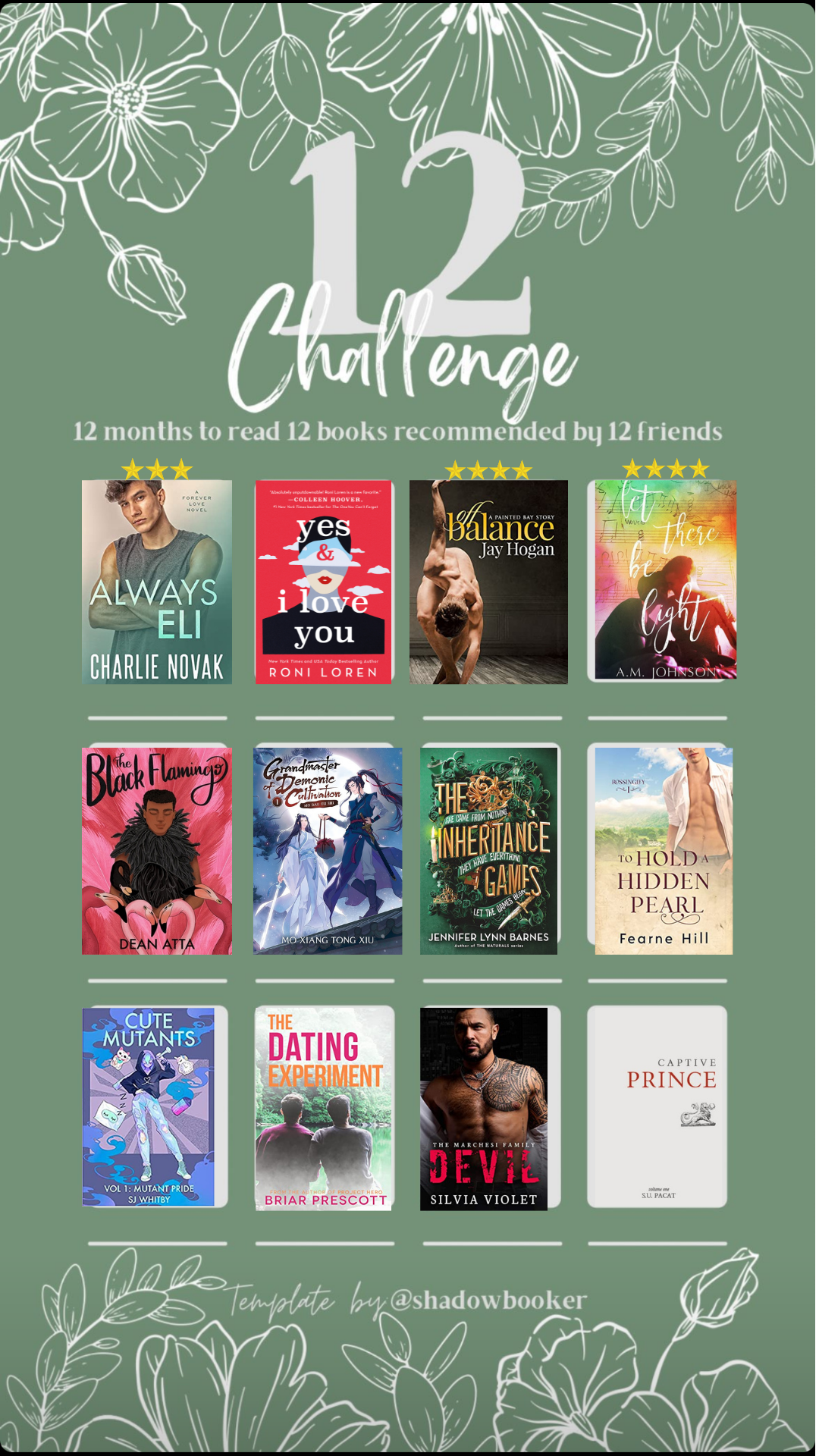 On the writing front
Lighthouse Bay 3…Dev and Clark's story…is with my copyeditor! And it has a title! It's called Sweet to the Core and you can thank one of my Facebook Group members for the title, which I totally stole from this post. I'd asked my readers for a punny name for an apple baking contest, and I ended up using the name of the contest as the name for the book.
I've got the cover, which I'll be revealing to newsletter subscribers and my Facebook Group in the next couple of weeks, along with the blurb. Release day is looking like May 17. Stay tuned for pre-order links!
Audiobook lovers!
Keeping Kellan (Keeping Him #2) is now here on audio!
You can find it on Amazon and Audible, and though I haven't seen it on Apple yet, hopefully that's coming soon. It's also been Whispersynced!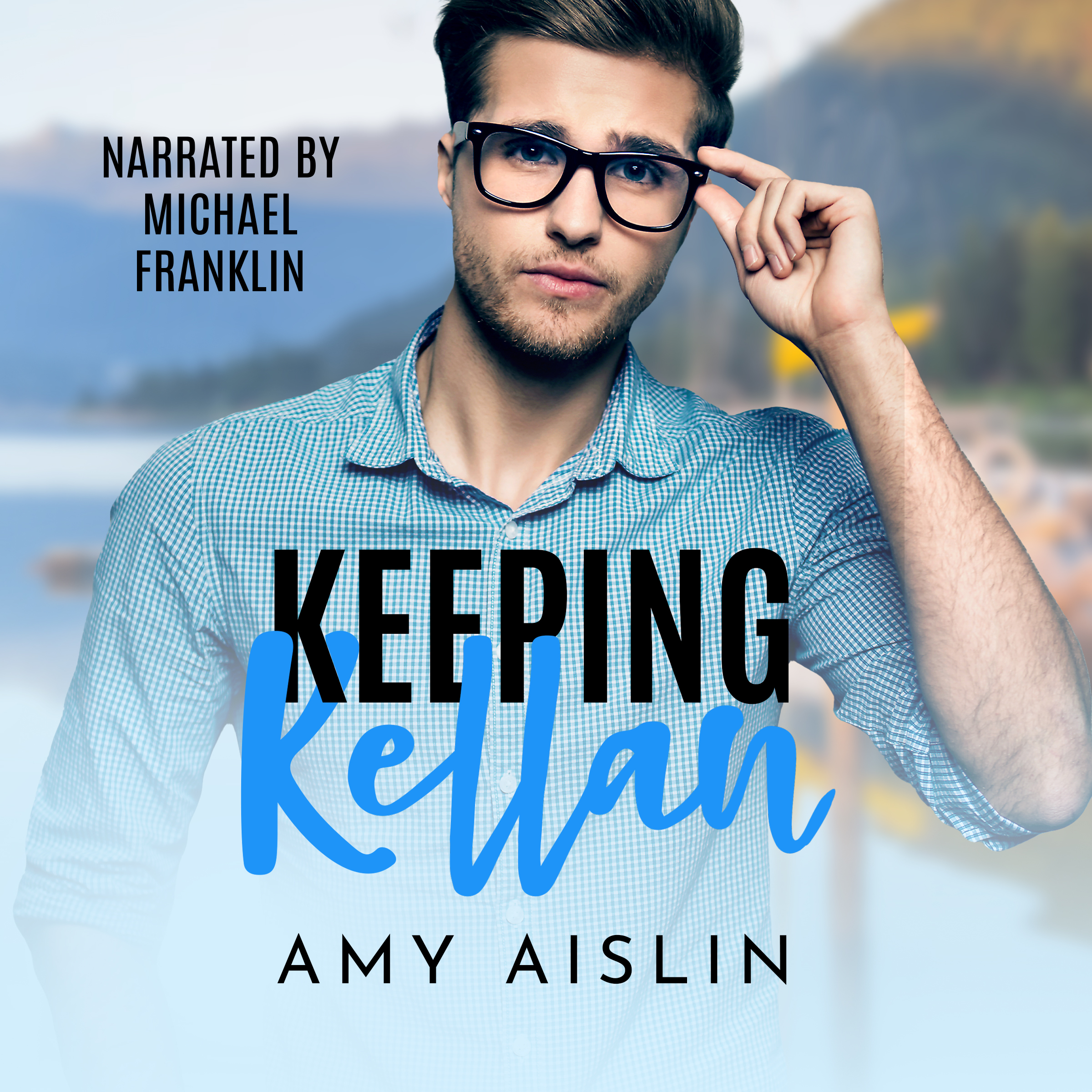 More audiobook news! Adam Lawrence has started narrating
Shots on Goal (Stick Side #3)
and Roman and Cody's story is sounding awesome so far. I don't expect to have this for sale until the summer, though. Adam is a full-time high school chemistry teacher, so he records in his spare time and we anticipate it'll probably take him until end of May to record
Shots on Goal.
In other book news, my current WIP is called A Gift-Wrapped Holiday and you can expect to see that one in October! It's got a small town, a divorced dad, and a California boy suffering through a wintery Maine Christmas.
And finally, don't forget to check out the Your Book Boyfriend's Boyfriend giveaway on Prolific Works, where more than 100 m/m romance novellas are available free until the end of the year. My contribution is Chasing Sunsets! Check out the cover and blurb below!
Check out all of the books here.
↓
↓
↓
↓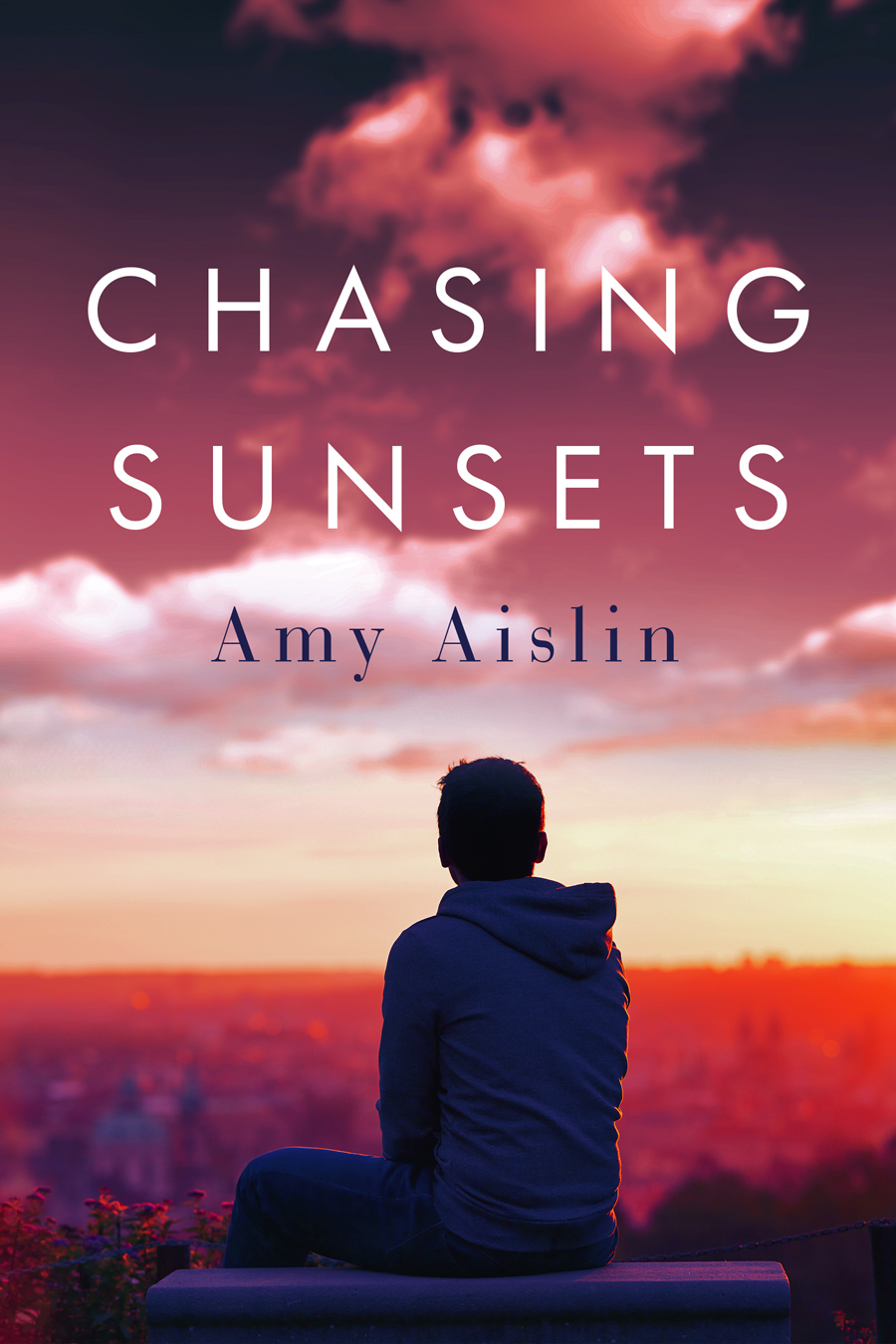 A sex scandal wasn't how NHL player Dane Roxborough imagined starting his summer. Neither was fleeing Boston with his tail between his legs. Seeking refuge at his parents' inn in his hometown, all he wants is to hide from the press…and reconnect with his college sweetheart.
Grant Lilly's had enough of broken hearts. Sure, Dane still owns his, but that doesn't mean anything when Dane left him to play hockey once already. Grant has a life and a career in Glen Hill, and he doesn't need Dane resurrecting old feelings.
Amid Green Mountain summer nights, can Dane and Grant chase the sunset to their happily ever after?
For a chance to win a $5 Amazon gift card (or a gift card to the e-store of your choice), leave a comment below. Tell me what you're looking forward to reading in April or tell me if you spotted any favourite reads above. Winner will be chosen on April 8.